Australian Grand Prix: 'Fans will not be excluded because of coronavirus,' says race chief
Last updated on .From the section Formula 1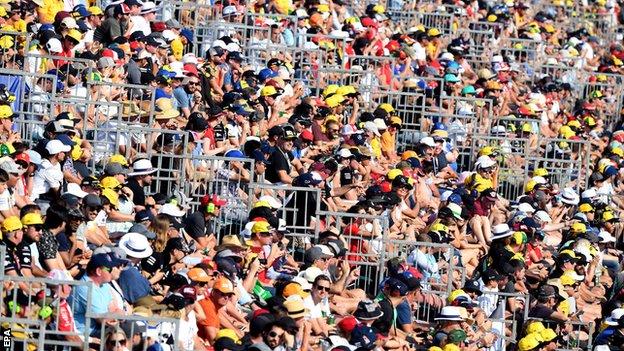 Formula 1's season-opening Australian Grand Prix in Melbourne will go ahead as planned next weekend with fans in attendance, race chief Andrew Westacott has said.
There will be no crowds at the Bahrain Grand Prix on 20 March because of the coronavirus outbreak.
Westacott, who cited the big crowd at the T20 World Cup final, said: "We've got to go around things sensibly.
"We have to keep moving on through life while taking precautions."
Many F1 teams are based in England, but Ferrari and Honda-powered Alpha Tauri are located in Italy where there has been a recent surge in coronavirus cases.
"The interesting thing is the Italian freight," the Australian Grand Prix Corporation chief added.
"The Alpha Tauri cars and the Ferrari cars are on their way from [the airport] as we speak, so it's really good. The key personnel are on their planes. We're expecting them in the next 12 to 24 hours."
Italy has placed up to 16 million people under quarantine as it battles to contain the spread of the virus. Anyone living in Lombardy and 14 other central and northern provinces - including Modena, where Ferrari's Maranello headquarters is situated - will need special permission to travel.
Professor Brendan Murphy, the chief medical officer for the Australian government, said that holding Sunday's race would not pose a risk to public health.
"I'm not feeling at all concerned going to mass gatherings or walking down the streets in Victoria," he said.
"So I don't think that there's a risk at the Grand Prix."
'Safety has to remain our utmost priority'
The Bahrain race takes place a week after the season opener, the country having implemented special measures to ensure the race is able to go ahead.
Immigration and health authorities have requested the names and flight details of all F1 personnel who work for teams, administrators, broadcasters or media who have been to, or transited through, China (including Hong Kong), Iran, Iraq, Italy, Japan, South Korea, Malaysia, Singapore, Egypt, Lebanon or Thailand in the 14 days before their arrival in Bahrain.
They have also asked for the names and flight details of all passengers planning to arrive in Bahrain via the United Arab Emirates.
These passengers are expected to be screened at Manama airport on arrival and, if they do not have coronavirus, will be allowed to enter the country.
"We know how disappointed many will be by this news, especially for those planning to travel to the event, which has become a cornerstone event of the international F1 calendar, but safety has to remain our utmost priority," read a statement from the Bahrain International Circuit.
"Bahrain's own early actions to prevent, identify and isolate cases of individuals with Covid-19 has been extremely successful to date.
"Aggressive social distancing measures have further increased the effectiveness of preventing the virus' spread, something that would clearly be near impossible to maintain were the race to have proceeded as originally planned."
The Chinese Grand Prix in Shanghai, which was scheduled for 19 April, remains the only race to have been postponed.
F1 has faced questions as to whether it is acting appropriately in pressing ahead with the start of the season.
On Monday, it released a statement saying that "the health and safety of fans, family and wider communities is always paramount" and that it was "taking a scientific approach to the outbreak".
It said it was "acting on daily advice from the official health authorities".
The statement said the sport he'd implement a number of measures based on advice from Public Health England, including the suspension of all non-essential travel".
It added: "Dedicated teams of experts will be deployed at airports, transit points and circuits to safeguard personnel, focused on the diagnosis, management and extraction of suspected cases. Bespoke quarantine points are being installed by promoters for any suspected cases."