Eifel Grand Prix: Second Mercedes team member tests positive for Covid-19

By Andrew Benson
Chief F1 writer
Last updated on .From the section Formula 1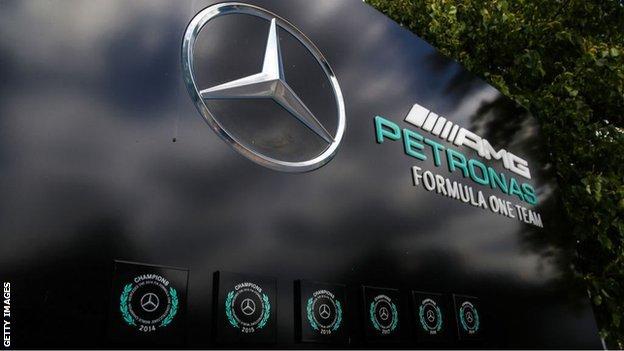 A second Mercedes team member has tested positive for coronavirus at the Eifel Grand Prix.
The entire team was re-tested after one positive result on Thursday and a third person delivered an inconclusive result and is being tested again.
In total, six staff members have had to go into isolation under Formula 1's Covid-19 protocols because of the positive tests.
Mercedes have flown in six replacement team members from the UK to Germany.
None of the people involved are a "known person" in F1 terminology, meaning a team figure with a public profile.
The team refused to identify the people involved for reasons of data protection and medical confidentiality.
On Thursday, after the first positive test was revealed, Lewis Hamilton said he was "concerned" and "sad" and emphasised the need to behave appropriately to avoid Covid-19.
"It is important for everyone around the world to be continually reminded this thing has not disappeared. It is still here," he said.
"We still have to follow protocols, wear masks, keep your hands clean and keep your distances.
"I can't say what it will do to our weekend. We have a lot of great people in the team, we will just try to make him proud and it will take a lot of work to make sure we continue on without any disturbances."
The F1 season resumed in July with an extensive set of protocols in place to minimise the risk of personnel contracting coronavirus.
These include keeping teams away from each other, and operating within teams using a series of 'bubbles', regular testing, and mandatory mask wearing in the paddock.
Last week, F1 announced the highest number of positive tests in a week since the season resumed, with 10 personnel involved with the sport contracting the virus in the wake of the Russian Grand Prix.
Local restrictions are looser in Russia than in many countries in western Europe, with the locals generally not wearing masks or practising social distancing.
A number of European countries are facing a fresh rise in coronavirus cases, including the UK, where Mercedes' chassis and engine factories are located.
Mercedes team boss Toto Wolff said: "The drivers are the most restricted of the whole group, of the whole team. It's certainly not a great situation for them because you almost need to live like a hermit and that's what they are doing.
"They are at home, they are not going out for dinners, they are not meeting any other people. Within the team when we do the debriefs by Zoom or Microsoft Teams, they are not sitting with the engineers in the room.
"They are sitting in their own rooms and we are avoiding as much as possible any personal contact with them. It's literally stepping into the car and driving the car and keeping their distance."
Only one driver has tested positive so far this season, Racing Point's Sergio Perez.
The Mexican contracted coronavirus in July after travelling back to his home country to visit his mother after she had been in hospital.
He missed two races, the British Grand Prix and 70th Anniversary GP at Silverstone, but returned for the subsequent event in Spain.