Qatar F1 race will be held in November along with 10-year deal

By Andrew Benson
Chief F1 writer
Last updated on .From the section Formula 1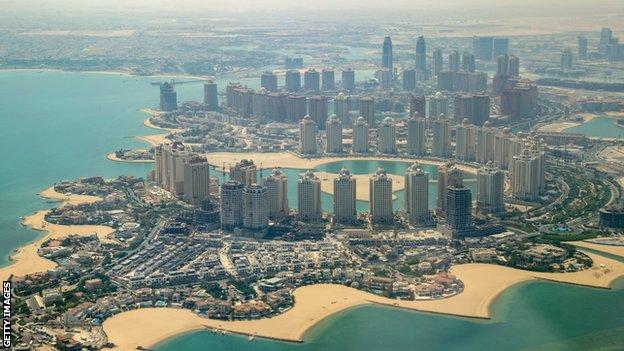 Qatar will make its debut on the Formula 1 calendar with a race in November and has signed a 10-year deal to host a Grand Prix from 2023.
The Gulf state will fill the vacant slot on this season's schedule on 19-21 November with a race at its Losail circuit, known for hosting MotoGP.
Qatar will not host an F1 race in 2022 to focus on staging the Fifa World Cup.
The race's location from 2023 has not been confirmed, but the plan is to hold a street race in the capital Doha.
Qatar is the fourth Middle Eastern country to join the F1 calendar. It joins the long-standing races in Bahrain and Abu Dhabi, and Saudi Arabia, which makes its debut this year as the 2021 season's penultimate race on 3-5 December.
And it will make for three races in the region to end this year's world championship, with Qatar followed by Saudi Arabia and then the season-finale in Abu Dhabi on 10-12 December.
This year's Qatar Grand Prix will be a floodlit night race starting at 18:00 local time.
The announcement confirms that there are seven remaining races in the close title battle between Lewis Hamilton of Mercedes and Red Bull's Max Verstappen.
Turkey starts the run-in on 10 October, followed by the US Grand Prix in Austin, Texas, on 24 October.
Mexico, Brazil and Qatar will be on consecutive weekends starting on 7 November, followed by Saudi Arabia and Abu Dhabi on the first two weekends in December.
Amnesty International said Qatar's human rights record was "extremely troubling" and in a statement urged F1 to "insist that all contracts pertaining to this race contain stringent labour standards across all supply chains".
It added that "drivers and their teams should be prepared to speak out about human rights in Qatar in the lead-up to the race, doing their bit to break the spell of sportwashing and image-management".
In response to Amnesty, F1 said: "For decades Formula 1 has worked hard be a positive force everywhere it races, including economic, social, and cultural benefits.
"Sports like Formula 1 are uniquely positioned to cross borders and cultures to bring countries and communities together to share the passion and excitement of incredible competition and achievement."
"We take our responsibilities on rights very seriously and set high ethical standards for counterparties and those in our supply chain, which are enshrined in contracts, and we pay close attention to their adherence."