Pascal McConnell grabbing unexpected Tyrone keeper chance
Last updated on .From the section Gaelic Games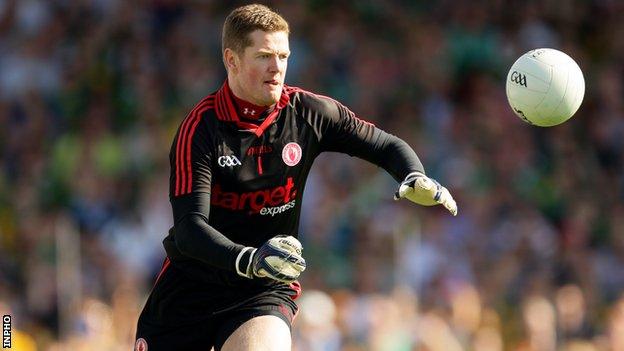 Tyrone goalkeeper Pascal McConnell is looking forward to an All-Ireland Football Semi-Final appearance that didn't appear to be a likely prospect a couple of months ago.
"It's nice for myself but you have to be mindful that there's a lad who suffered a bad injury," said McConnell.
"It's not the way I would have wanted."
Indeed, McConnell admits that thoughts of his goalkeeping colleague's plight will enter his head in to the build-up to next Sunday's clash with Mayo.
"I'd hope to do him a bit of justice.
"When the time came (at the start of this season, Mickey (Harte) had a word and said that this young lad was going to be in the team.
"Mickey said that Niall had been performing very well and felt it was time to give him a chance to stake his claim for a place.
"You have got to give lads chances. That was all part and parcel of Mickey's rotation policy that he gave to John (Devine) and me during the National League throughout the years.
"He gave both of us our chance and whoever was performing well got the nod maybe on championship days.
"Fair's fair. Niall has been fantastic when called upon and I couldn't speak highly enough of him. He has been a big asset for us."
Morgan's long range free-taking ability contributed to Tyrone's run to this year's Football League final where they were narrowly beaten by Dublin.
Granted the Edendork keeper's accuracy from placed balls deserted him as he appeared spooked by Donegal's tactic of stationing three players in his eye line during the Ulster Championship clash at Ballybofey.
McConnell laughs when asked whether he has ever considered extending his repertoire to kicking points.
"By the time I'd get to the 45-metre line, I'd be looking for a rest.
"I'll leave it to those who are able to do that."
But while goalkeepers' kicking frees is a phenomenon that McConnell has eschewed, the 33-year-old has adapted to evolving nature of duty for modern-day inter-county custodians.
Kick-outs have become as increasingly important aspect of the game with keepers having to varying their clearances depending on how possession is breaking in the middle third of the field.
"When I started in 2003, it was just about kicking the ball as far as you could," adds McConnell.
"It's been a challenge for goalkeepers and myself to suddenly wake up and see that this thing is evolving and that you have to keep up with it or be left behind."
The Newtownstewart man may have seen Sean Cavanagh's by now infamous tackle on Conor McManus at close quarters in the recent All-Ireland quarter-final but McConnell has remained unruffled by the controversy.
"We are getting a lot of flak but it's water off a duck's back.
"It's unfortunate we have it because I suppose the mentality is that it is win at all costs and teams are going to look at that mentality and run with it.
"That's the way the game has gone and you have to go with the flow."