Tyrone fans travelled more in hope than expectation

By Thomas Niblock
BBC Sport NI
Last updated on .From the section Gaelic Games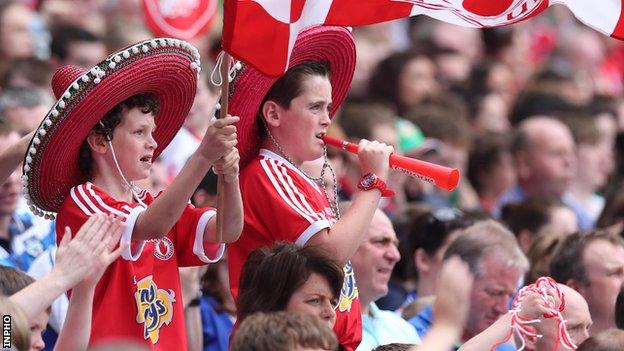 Enda McGinley is pure Tyrone. Four Ulster titles, three All-Irelands, two National Leagues and an All Star award.
He may now be a matchday pundit on Radio Ulster, but he still refers to Tyrone as 'we' and he joined us at Croke Park last Sunday in a Red Hand polo shirt, covered by a Tyrone hoodie.
"So who will win, Enda?" I asked. "Mayo will win Thomas."
Of course he wanted so badly wanted to say Tyrone, but even Enda, Tyrone to the core, couldn't back his own county. Most supporters travelling to Croke Park probably thought the same. A chance yes, but unlikely.
I was in Mayo last week interviewing Keith Higgins, Andy Moran and James Horan. The sense of occasion struck me. Loads of flags, signs and messages of good luck. The supporters of Mayo were building towards a third Sunday in September.
I was driving through Tyrone on my way to Croke Park on Sunday. Cookstown, Dungannon, Moy, nothing. Maybe I'm wrong, but I did get the sense of 'there's no point putting the banners up as there's a decent chance we'll have to take them down again soon.'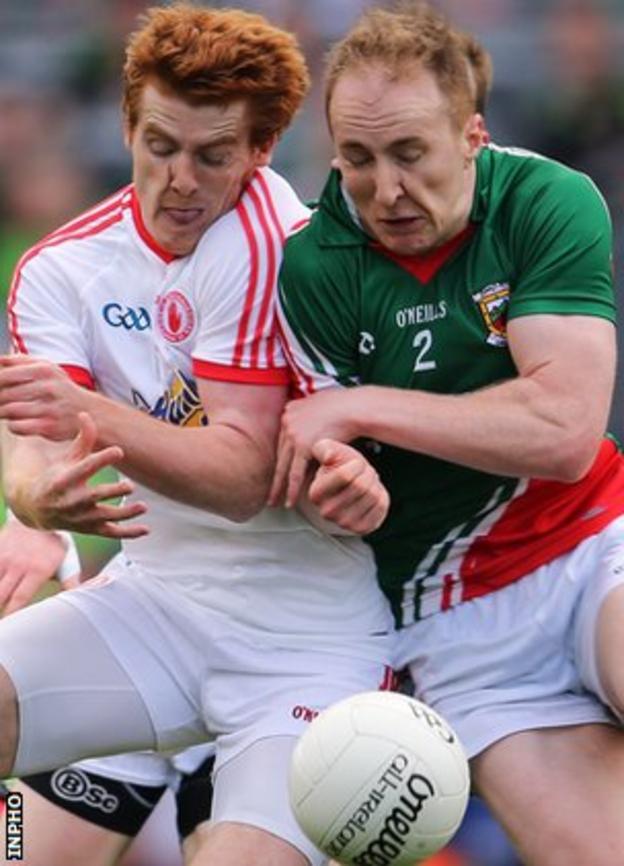 Now, I've absolutely no doubt Mickey Harte and his players believed they could reach the All-Ireland final, but the majority of people I've been speaking to in Tyrone didn't.
Roll on 3.30 and Tyrone brought an intensity that rattled Mayo. And if ever an image summed up the word intensity - then perhaps this photo (left) is it.
Great picture, but bad news for Mickey Harte as this collision ended Peter Harte's involvement in the game, followed shortly by Stephen O'Neill.
Mayo also lost Cillian O'Conor through injury and replaced an off-form Andy Moran. However James Horan introduced Enda Varley and Michael Conroy, clearly illustrating the array of talent at his disposal.
At half-time Enda McGinley said: "In order for Tyrone to win, everything has to go in their favour. Everything, and Mayo need to be off the boil."
He was right. Mayo were awarded a penalty early in the second half and the rest, as they say, is history.
Croke Park was magnificent yesterday, over 65,000 in attendance and it was a privilege to be there.
However it can be an eerie place if you lose. Mayo had long left the field yet manager Harte had all the Tyrone players, subs and management team in a huddle on the Croke Park pitch. A depressing place.
But time is a great healer and when Mickey and his squad look back on 2013, planning for 2014, you could say it was a positive year.
They were the last Ulster side in the Championship. They reached the final of Division One, losing to Dublin in a game they could have won.
Tyrone have also unearthed Mattie Donnelly, Conor McAliskey, and Ryan McKenna. Darren McCurry has a full Championship season behind him. Ronan O'Neill is back fit again.
It was a battle-hardened year that will benefit them and, in all probability, there are more successful Tyrone campaigns on the way.
For now it's disappointment. But don't be surprised if the flags, signs and messages of good luck are soon out in force again in Cookstown, Dungannon and Moy.