Antrim appeal to GAA president Liam O'Neill over U21 final venue
Last updated on .From the section Northern Ireland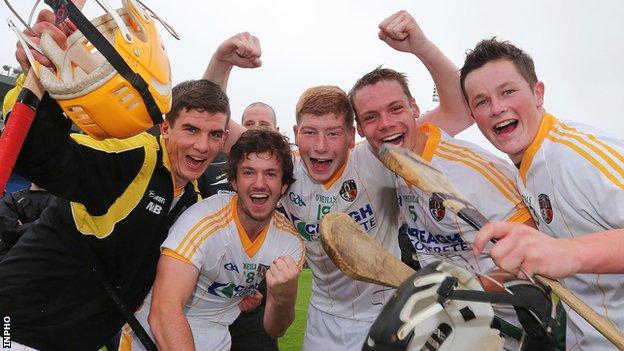 Antrim have appealed to GAA president Liam O'Neill amid the row over the decision to stage the All-Ireland Under-21 hurling final in Thurles.
The Antrim GAA board has made it clear this will not happen but they have launched an appeal against the venue.
"We're asking Liam O'Neill to intervene," said Antrim board spokesman Brendan Mulgrew.
"If there is a will to find a way out of this situation, we think there would be a way to do it.
"We're asking Liam O'Neill to intervene and find that way and be creative about it."
Antrim players and supporters alike are facing close to a 500-mile round trip to Semple Stadium while the Clare contingent's journeys will take little more than 30 minutes.
Antrim officials expect the GAA to respond to their plea by the weekend but the Saffrons have made clear that they are prepared to take the matter all the way to the sport's Disputes Resolution Authority if their initial appeal is turned down.
"It's something we are looking at. If we need to take it that far we will."
Recent All-Ireland Under-21 hurling finals have all been staged in Thurles apart from occasions when home county Tipperary have been involved.
However, Mulgrew insists that a more "equidistant" venue should be found.
"We're not asking for the game to be played at Casement Park, Loughgiel or Cushendall.
"This is a marvellous opportunity for us to promote hurling and inspire a new generation of hurlers."
Despite Kevin Ryan's comments earlier this week when he said that his squad's chances of winning had "gone" because of the venue decision, Mulgrew insisted that the team would be "unaffected" by the controversy.
"This won't affect them and Kevin Ryan won't let it get at the players."
The Saffrons reached the All-Ireland decider by stunning Wexford in last weekend's semi-final.