Kieran McGeeney edged out of Kildare post by single vote
Last updated on .From the section Gaelic Games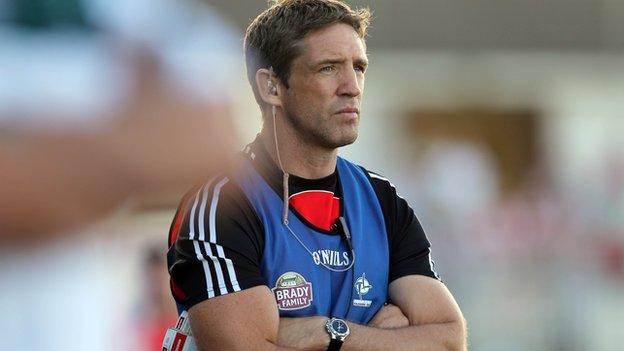 Kieran McGeeney's six-year tenure as Kildare manager came to an end as he lost out by a single vote at a dramatic county board meeting on Tuesday night.
The Armagh All-Ireland winning captain will leave after 29 clubs voted for a change of management, with 28 against.
The decision of club delegates to remove McGeeney comes after a defeat by Tyrone in the All-Ireland qualifiers.
Kildare players wanted McGeeney to stay and the squad will meet on Wednesday night to discuss their response.
The squad, in a statement released on its behalf by the GPA, said the county board's decision was made "despite the expressed support of the Kildare senior football squad for the manager's retention".
A number of senior players had publicly given their backing to McGeeney.
Captain Eamonn O'Callaghan and wing-back Emmett Bolton were among those calling for the Mullaghbawn man to be given another term.
"58 club delegates who have never seen us train went into a room and decided what was best for us," said Bolton on Twitter.
"They totally disregarded our opinions over the last couple of weeks.
"A disgraceful way to treat a man who put so much heart and effort into Kildare football.
"Gutted that Kieran is gone. The effort that he put in over the last six years is beyond belief. It was a privilege to learn and work under him."
The County Board's management committee had also offered their support to McGeeney.
The Armagh man took over at Kildare back in 2007 but the failure to win a Leinster title or reach an All-Ireland final eventually led to his departure.
McGeeney did however reach four All-Ireland quarter-finals and a semi-final in 2010, when they lost to Down.
A year later Kildare lost out to Donegal in extra-time at the quarter-final stage and McGeeney's men went on to win the Division Two title in 2012.