Kildare players seek Kieran McGeeney's return as manager
Last updated on .From the section Gaelic Games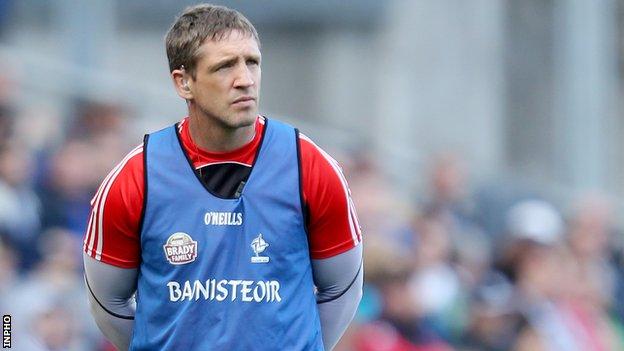 Kildare's entire senior panel have called for sacked manager Kieran McGeeney to be given the job back.
The players called for McGeeney's return in a statement which was strongly critical of the county board.
Club delegates voted by 29 votes to 28 not to offer former Armagh player McGeeney a seventh year in charge.
In their statement, the players said McGeeney had transformed Kildare from rank also-rans to a consistent top-eight team.
Significantly, McGeeney was publicly supported by Kildare chairman John McMahon on RTE radio on Wednesday morning, just hours after the vote.
"The players feel the county board has let us down throughout this process and our manager has been treated with a complete lack of respect and loyalty after his six years at the helm," the players said.
"The board's management committee should have used the powers available to reappoint Kieran as senior football team manager for 2014 in accordance with their own wishes and those of the players.
"In not doing so they abdicated their responsibility and much accept much of the bale for the situation the county now finds itself in."
Earlier, a number of senior players had publicly given their backing to McGeeney.
Captain Eamonn O'Callaghan and wing-back Emmett Bolton were among those calling for the Mullaghbawn man to be given another term.
"58 club delegates who have never seen us train went into a room and decided what was best for us," said Bolton on Twitter.
"They totally disregarded our opinions over the last couple of weeks.
"A disgraceful way to treat a man who put so much heart and effort into Kildare football.
"Gutted that Kieran is gone. The effort that he put in over the last six years is beyond belief. It was a privilege to learn and work under him."