GAA mourns after death of ex-president Paddy McFlynn
Last updated on .From the section Gaelic Games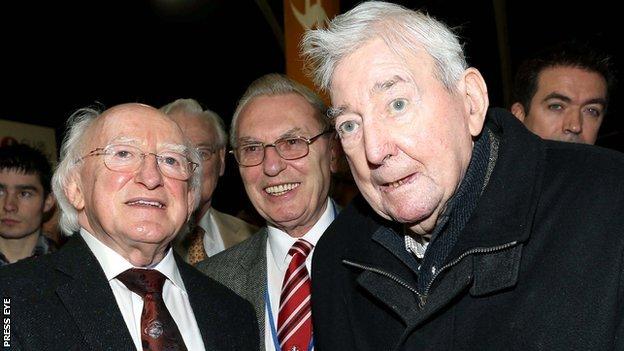 Paddy McFlynn, the GAA's president at the time of the hunger strikes, has died.
Mr McFlynn, 96, from Magherafelt, served in senior positions on the Derry and Down County Boards before taking the GAA's top job in 1979.
During the hunger strikes the GAA came under severe pressure from a number of quarters.
Ulster GAA president Martin McAviney described Mr McFlynn as an "iconic Ulster and national GAA figure".
"Paddy McFlynn was a GAA giant who gave over 80 years of volunteer service to our association," added the Ulster GAA president.
"Always evident was his immense pride in both the O'Donovan Rossa GAA Magherafelt (Derry) where he was a founding member at the age of 16, and his later club Tullylish GAA (Down) where he served as club president.
"He was also a lifelong Irish language enthusiast who strongly promoted the language throughout the Association in his various roles."
However, the Ulster official acknowledged that Mr McFlynn's stewardship of the association during his presidency was his "greatest contribution in his leadership of the GAA".
"He was in office at a time when the days were difficult, but like all other aspects of Paddy's life he dealt with the challenges faced by the GAA at that time both with courage and courtesy."
Mr McFlynn's death comes a week after the publication of his autobiography where he spoke of how the GAA had been in danger of being split during the hunger strikes period.
In an epilogue to the book, former GAA director general Liam Mulvihill said that the association could not have remained united but for the presence of a "northern person of such stature as the president".
In the book, Mr McFlynn revealed that he had broken the GAA's ban on playing other sports when participating in rugby while at teacher training college in London before the outbreak of World War II.
After returning home to work in Ireland, Mr McFlynn was elected as Derry county GAA secretary as a 23-year-old in 1940 before a change of job led to him undertaking senior roles within Down's GAA structure.
He was Ulster GAA president from 1961 to 1963 before assuming the national presidency in 1979.
Current GAA president Liam O'Neill described Mr McFlynn as a "wise, fatherly figure".
"He was erudite, interesting and intelligent man who will be sorely missed by all of those who came across him, not least his family and wide circle of friends and admirers," added the GAA president.