2013 Ulster hurling final set for 2014 after latest postponement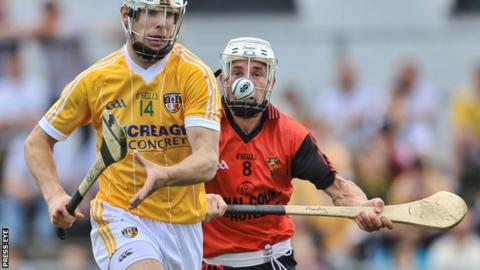 The delayed Ulster Senior hurling final between Antrim and Down scheduled for Celtic Park in Derry on Sunday 3 November has been postponed again.
An Ulster Council statement said the decision had been taken "following correspondence from the Antrim GAA county committee" but didn't elaborate.
However, the Antrim GAA board told BBC Sport that the game "could never have gone ahead because of GAA rules".
This is because the November date is during the closed inter-county period.
BBC Sport understands that the provincial final is now unlikely to take place until 2014 although the Ulster Council statement said that it remained "committed to playing the game in due course".
The GAA introduced the closed autumn and winter period for county teams a number of years ago in an attempt to reduce player burnout.
The current rules will prevent Antrim from beginning full training until late November - some three weeks after the scheduled latest final date.
Antrim GAA PRO Brendan Mulgrew also pointed out that three of the county's hurling squad are in line to represent their club St Gall's in an Ulster Club Football Championship quarter-final on 3 November.
Those players are Karl Stewart, Kieran McGourty and Jackson McGreevy.
"The Ulster Hurling Final could never have been played on 3 November because it's a closed period," added the Antrim official.
"We said to the Ulster Council: 'Have you sought permission from Croke Park to have the game played on this date?'
"We asked them if they had sought some kind of derogation from the rules so that it could be played during the closed period."
The game was originally scheduled for 7 July but that date was required for Down's semi-final replay with Derry.
Holiday commitments prevented the game taking place in the following weeks.
And when the game was arranged for 3 November in early September, the Ulster Council explained that this decision was taken "to ensure that clubs have access to all players for the duration of the county and provincial club championships".
Meanwhile, Antrim hurling manager Kevin Ryan has said that he would support the latest proposals submitted on the format of the 2014 National League.
Last Saturday's GAA Central Council meeting had been expected to endorse a proposal to form an eight-team top division which would have seen Cork avoiding relegation and Antrim included in a reduced Division 1B and missing out on big games against the Rebel County and Limerick.
However, following an outcry, largely led by Wexford and Offaly, a compromise proposal was submitted to last weekend's Central Council meeting.
Under the latest proposals, the current top 12 hurling counties would be divided into three grade.
Based on the 2013 league, those grades would be: (One) Kilkenny, Tipperary, Galway and Waterford; (Two) Clare, Cork, Dublin and Limerick and (Three) Offaly, Wexford, Antrim and Laois.
Two first divisions would be made up of six teams, with two drawn from each of the three grades.
The teams would play another two matches across the divisions against the other counties in their grade, giving all teams seven matches.
Antrim boss Ryan welcomed the latest plan, which has now been sent to the counties, before the Central Council looks at the issue again in the coming weeks.
"I think from a games development point of view, it's a positive development," said Ryan.
"I will certain be supporting it and having held discussions with the county board, I think they will be as well.
"But I think it's important that everybody agrees to sign up to the plans for a number of years.
"Being realistic everyone is thinking that Antrim and Laois would be the teams relegated from the two first divisions but it wouldn't be fair if that didn't happen, that the other counties then decided to rip it up again."