Friday Football League date for Down and Armagh in February
Last updated on .From the section Gaelic Games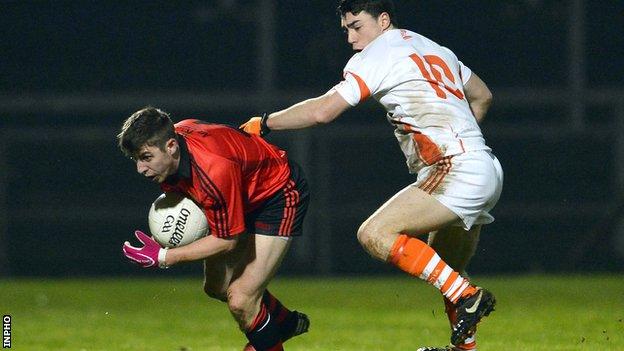 Armagh's Division Two tussle with Down will be one of two games in the 2014 Football League which will be played on Friday evenings.
The Ulster counties will play in the second round on Friday 7 February.
The other Friday contest sees All-Ireland champions Dublin taking on Kildare at Croke Park on 7 March.
The opening night on 1 February will see Derry facing Tyrone in Division One and derbies between Down and Monaghan and Cavan and Fermanagh.
Also down for the opening Saturday night of action is the Division One contest at Croke Park between All-Ireland champions Dublin and Kerry which will be a repeat of this year's classic All-Ireland semi-final.
The opening weekend also features Division Two contests between Laois and Donegal and Louth and Armagh while Antrim will open their Division Four campaign with an away game in Leitrim.
Round two will start a week later with the Friday clash between Armagh and Down with Sunday's games including Derry's trip to Kerry and a repeat of Tyrone's All-Ireland semi-final with Mayo, with the Red Hands having home advantage.
Round three will include two Saturday night Division Two contests with Down at home to Louth and Armagh travelling to Meath.
The following afternoon's games will include Tyrone's away game in Kildare and the Division Two clash between Donegal and Monaghan which will be repeat of this year's Ulster final.
Round four's programme will see Derry and Tyrone both having to travel to Munster for games against Cork and Kerry while the action a week later will include Division Two Ulster derbies with Armagh at home to Monaghan and Down welcoming Donegal.
The penultimate round of games includes Tyrone's trip to Cork on Sunday 30 March and Armagh's visit to Galway.
As ever, all the final round of games will have the same throw-in times on Sunday 6 April with the fixtures including Division 1 contests between Mayo and Derry and Tyrone and Dublin plus the Division Two clash between Armagh and Donegal.
Draft Football League fixtures
Saturday, 1 February (19:00)
Division 1: Derry v Tyrone; Dublin v Kerry
Division 2: Down v Monaghan
Division 3: Cavan v Fermanagh
Sunday, 2 February (14:00)
Division 1: Cork v Westmeath; Kildare v Mayo
Division 2: Laois v Donegal; Louth v Armagh; Meath v Galway
Division 3: Longford v Roscommon; Sligo v Limerick; Wexford v Offaly
Division 4: Carlow v Tipperary; Leitrim v Antrim; Waterford v Clare; Wicklow v London
Friday, 7 February (20:00)
Division 2: Armagh v Down
Saturday, 8 February (19:00)
Division 3: Fermanagh v Sligo
Sunday, 9 February (14:00)
Division 1: Cork v Kildare; Kerry v Derry; Tyrone v Mayo; Westmeath v Dublin
Division 2: Galway v Donegal; Louth v Laois; Monaghan v Meath
Division 3: Limerick v Longford; Offaly v Cavan; Roscommon v Wexford
Division 4: Antrim v Wicklow; Clare v Leitrim; London v Carlow; Tipperary v Waterford
Sunday, 16 February (14:00)
Division 4: London v Clare
Saturday, 1 March (19:00)
Division 1: Dublin v Cork
Division 2: Down v Louth; Laois v Galway; Meath v Armagh
Sunday, 2 March (14:00)
Division 1: Derry v Westmeath; Kildare v Tyrone; Mayo v Kerry
Division 2: Donegal v Monaghan
Division 3: Longford v Fermanagh; Roscommon v Limerick; Sligo v Offaly; Wexford v Cavan
Division 4: Antrim v Waterford; Clare v Wicklow; Leitrim v Carlow; London v Tipperary
Friday, 7 March (20:00)
Division 1: Dublin v Kildare
Saturday, 8 March (19:00)
Division 1: Armagh v Laois
Division 3: Cavan v Sligo
Sunday, 9 March (14:00)
Division 1: Cork v Derry; Kerry v Tyrone; Westmeath v Mayo
Division 2: Donegal v Meath; Galway v Down; Monaghan v Louth
Division 3: Fermanagh v Roscommon; Limerick v Wexford; Offaly v Longford
Division 4: Carlow v Antrim; Tipperary v Clare; Waterford v London; Wicklow v Leitrim
Saturday, 15 March (19:00)
Division 2: Armagh v Monaghan; Laois v Meath
Sunday, 16 March 16th (14:00)
Division 1: Derry v Dublin; Kildare v Kerry; Mayo v Cork; Tyrone v Westmeath
Division 2: Down v Donegal; Louth v Galway
Division 3: Limerick v Fermanagh; Longford v Cavan; Roscommon v Offaly; Wexford v Sligo
Division 4: Carlow v Wicklow; Tipperary v Antrim; Waterford v Leitrim
Saturday, 29 March (19:00)
Division 1: Dublin v Mayo
Division 2: Meath v Down
Division 3: Cavan v Roscommon
Sunday, 30 March (14:00)
Division 1: Cork v Tyrone; Derry v Kildare; Westmeath v Kerry
Division 2: Donegal v Louth; Galway v Armagh; Monaghan v Laois
Division 3: Fermanagh v Wexford; Offaly v Limerick; Sligo v Longford
Division 4: Antrim v London; Clare v Carlow; Leitrim v Tipperary; Wicklow v Waterford
Sunday, 6 April (15:00)
Division 1: Kerry v Cork; Kildare v Westmeath; Mayo v Derry; Tyrone v Dublin
Division 2: Armagh v Donegal; Laois v Down; Louth v Meath; Monaghan v Galway
Division 3: Fermanagh v Offaly; Limerick v Cavan; Roscommon v Sligo; Wexford v Longford
Division 4: Antrim v Clare; London v Leitrim; Tipperary v Wicklow; Waterford v Carlow