International Rules: Aussies vow to up intensity at Croker
Last updated on .From the section Gaelic Games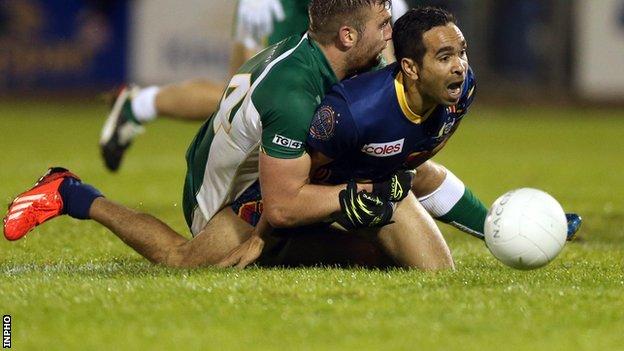 Australia goalkeeper Ashley McGrath has insisted that the visitors will up the physical intensity in Saturday's Second International Rules Test against Ireland at Croke Park.
However, McGrath insisted that the all-indigenous Aussie team will produce a big effort at GAA headquarters.
"We are going to go out there and tackle hard," said McGrath.
"If things happen and it flares up, it flares up.
"We are not going out there to throw punches, we want to do it through our tackling pressure.
"We did that in the third quarter (at Breffni Park) and if you see the tape the Irish boys started kicking out of bounds and missing their kicks.
"If we go out there tackle hard and pressure hard the ball is in our court."
The lack of intensity made much of the Breffni Park contest a dull spectacle and both GAA and AFL officials are hoping that won't contribute to a disappointing attendance at headquarters.
Reports of some late night high jinks by the Australians in an Ennis hotel following the Cavan defeat could be interpreted as unprofessionalism although the negative headlines could perhaps serve to rally Mick O'Loughlin's beleaguered squad.
The Australian take on the alleged incidents was that they had been guilty of nothing more than excessive "noise".
GAA officials will be hoping that there is plenty of noise at Croke Park and it remains to be seen whether the Aussies' vow to adopt a more physical approach comes to pass and thus ensures a more memorable sporting occasion than last weekend.