International Rules: Ireland rout indigenous Aussies to win series
Last updated on .From the section Gaelic Games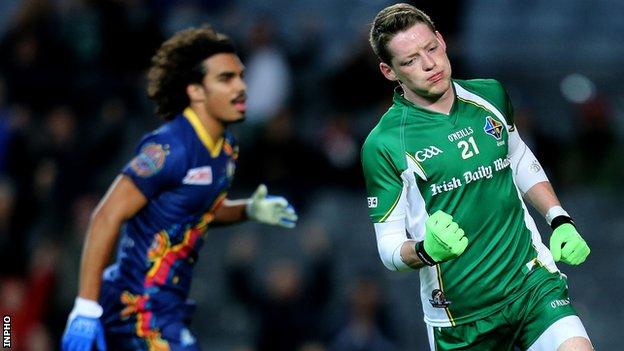 Ireland completed a record 101-point win in the International Rules series as they thrashed Australia 116-37 in the Second Test at Croke Park.
Man of the match Conor McManus hit two of Ireland's six goals with Donegal's Paddy McBrearty also finding the net.
Ireland took a 22-point lead into the Second Test and ended any slim hopes of an Aussie comeback by leading 27-8 after the first quarter.
The margin of the win will lead to more doubts over the future of the series.
After last week's somewhat lacklustre First Test at Breffni Park, the Irish put the Aussies to the sword at GAA headquarters by producing a performance of power and pace to which the all-indigenous squad from down under simply had no answer.
In the build-up to Saturday's game, the Aussies had spoken about adopting a more physical approach than a week ago.
And granted, there were more skirmishes a week on - including a few outbreaks before the start of the game - but these lamentably failed to ruffle an Ireland team who utterly dominated every aspect of the contest.
Ireland's all-action display made it a far more entertaining spectacle than the Breffni bore but clearly the GAA, and in particular the AFL, have a lot of thinking to do in relation to a series which many will view as being on life-support after this year's unequal contest.
Mayo's Lee Keegan kicked Ireland's opening three-point over and the Aussies were already in trouble by the 12th minute as McManus hammered in his team's first six-point goal after being unchallenged as he fielded a high ball from Ciaran McKeever on the 20-metre line.
The goal increased Ireland's lead to 16-5 and the advantage was pushed on to 27-8 by the end of the first quarter helped by another goal from Dublin's Jack McCaffrey.
In many instances, the visitors were being the architects of their own downfall with their keeper Ashley McGrath - admittedly undertaking a role which is not part of the Aussie code - struggling badly to find team-mates from kick-outs and thereby handing possession straight back to the Irish.
Ireland continued to dominate at the start of the second quarter as overs from Ciaran Sheehan, captain Michael Murphy, and the again impressive Ross Munnelly helped push their lead to 39-16.
Dublin again contributed Ireland's third goal as Ciaran Kilkenny lashed to the net from close range after Sean Cavanagh had done well to keep the ball from going out over the end line.
Australia failed to score in the last nine minutes of the second quarter as the Irish lead was extended to 53-16 by half-time.
The one-way traffic continued after the resumption as a rampant Ireland added 12 unanswered points before Lewis Jetta notched Australia's first score in 20 minutes as he slotted an over.
McManus had brought up his individual haul to 21 points by the end of the third quarter as the Irish led 78-25.
McBrearty hammered in Ireland's fourth goal on the hour mark after another botched kick-out by McGrath following a Paul Flynn over.
With the outcome long since decided, the Irish defensive shape began to wane and the Aussies fired two goals in a three-minute spell with probably their best player Eddie Betts and Jade Neade finding the net.
But the Australian goals only served to further fire up the dominant home team as they struck 22 unanswered points during the remaining nine minutes of action with Cavanagh's over bringing the Irish over the 100-point mark.
Galway man Paul Conroy scored Ireland's final goal as his long ball from 35 metres went direct to the net after Murphy's presence had unhinged the Australian keeper once again.
Ireland's 116-37 win meant a overall series margin of 173-72.
Ireland: Michael Murphy (Donegal, captain), Aidan Walsh, (Cork, vice-captain), Paddy O' Rourke (Meath), Colm Begley (Laois), Colm Boyle (Mayo), Ciarán Byrne (Carlton, AFL), Seán Cavanagh (Tyrone), Paul Conroy (Galway), Paul Flynn (Dublin), Ciarán McKeever (Armagh), Lee Keegan (Mayo), Ciaran Kilkenny (Dublin), Paddy McBrearty (Donegal), Jack McCaffrey (Dublin), Neil McGee (Donegal), Chrissy McKaigue (Derry), Kevin McLoughlin (Mayo), Conor McManus (Monaghan), Ross Munnelly (Laois), John Doyle (Kildare), Ciarán Sheehan (Cork), Michael Shields (Cork), Zach Tuohy (Carlton, AFL).
Australia: Tony Armstrong (Sydney Swans), Dominic Barry (Melbourne), Eddie Betts (Carlton), Aaron Davey (Melbourne), Alwyn Davey (Essendon), Shaun Edwards (GWS), Jarod Harbrow (Gold Coast), Cameron Ellis-Yolmen (Adelaide), Josh Hill (West Coast), Leroy Jetta (Essendon), Lewis Jetta (Sydney Swans), Nathan Lovett-Murray (Essendon), Ash McGrath (Brisbane), Jake Neade (Port Adelaide), Steven Motlop (Geelong), Sharrod Wellingham (West Coast), Daniel Wells (North Melbourne), Chris Yarran (Carlton), Mathew Stokes (Geelong), Lindsay Thomas (North Melbourne).