Queen's boss Anthony McGrath warns of McKenna Cup stalemate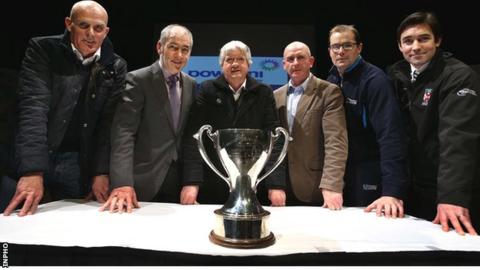 Queen's manager Anthony McGrath has warned that the McKenna Cup is "in a position of stalemate" as universities are being robbed of their star players.
Joe Kernan was appointed to mediate between counties and universities over the availability of players but McGrath says "nothing has really progressed".
"Joe has tried to negotiate but has had very limited success," argued McGrath.
"We are not preparing for the Sigerson Cup the way we should be. That is my main area of concern."
"We are entering the competition without our full squads and that is no good to any of the university sides.
"There are county managers out there who are playing ball with the universities and recognise the value of player development, but there are others who don't recognise that.
"Most of the university teams will be without their star players so the weakest teams will be even weaker still.
"We are committed to the competition this year so we will make the best of it but we will then probably review the situation.
"It is potentially a fantastic competition if the rules are adhered to and the universities have full squads available."
Queen's, St Mary's and UUJ traditionally use the pre-season competition, which also involves the nine Ulster counties, as preparation for the Sigerson Cup.
"We came into the competition a number of years ago on the basis that universities would have first pick on all players but that has changed over the years.
"Last year we felt forced to pull out of the competition because a lot of our players had been taken by their counties and although the Ulster Council has tried to do something about it by appointing Joe as a middle man, little has changed."
Queen's will begin their campaign with a Section A clash against Armagh at the Athletic Grounds on Sunday.