Derry defeat Monaghan in Dr McKenna Cup clash at Clones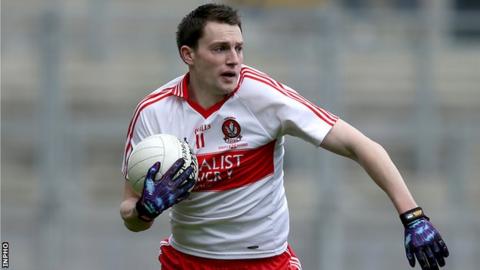 Ulster champions Monaghan succumbed to Derry as the Oak Leaf County claimed a 2-15 to 2-11 win in the Dr McKenna Cup Section B opener at Clones.
Enda Lynn and James Kielt goals helped Derry move 2-4 to 0-6 ahead before Ryan Wylie netted for Monaghan to cut the margin to a point by half-time.
A Christopher McGuinness goal put Monaghan 2-8 to 2-5 ahead but seven unanswered points put Derry in control.
The other Section B game between Fermanagh and St Mary's was postponed.
Monaghan led by 0-4 to 0-2 after 20 minutes helped by two Paudie McKenna points but goals from Lynn and Kielt helped Derry move 2-4 to 0-6 ahead.
It could have been even better for Derry at that stage as Mark Lynch also hit the woodwork with a goal effort.
Wylie's goal cut the margin to a point at the break as he finished to the net after keeper Thomas Mallon had made a brilliant double-save to deny McGuinness.
Points from Paul Finlay and McGuinness nudged Monaghan ahead after the restart and while Kielt quickly levelled, McGuinness then netted to put the home side three up after the brave Mallon had produced another pointblank save.
However, Derry responded to Monaghan's second goal by striking seven unanswered points to lead by four, which included three Kielt scores and two points from Lynn.
That remained the margin at the finish as Derry held on to beat the Ulster champions.
POWER NI DR MCKENNA CUP RESULTS
Section A
Donegal 1-07 0-13 Tyrone
Armagh 1-17 0-15 Queen's
Section B
Monaghan 2-11 2-15 Derry
Fermanagh P-P St Mary's College
Section C
Antrim 0-12 3-12 Cavan
Down 1-15 0-07 UUJ