BBC Sport - Jim McGuinness says Donegal ran out of steam in Tyrone defeat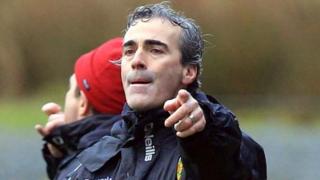 Donegal ran out of steam - McGuinness
Donegal manager Jim McGuinness says his side tired badly in the second half of Sunday's Dr McKenna Cup defeat by Tyrone.
"We were happy with the first-half performance but we fatigued badly in the second half," said McGuinness after the 0-13 to 1-7 defeat by the Red Hands at Letterkenny.
McGuinness said that he had "no complaints" with the black card handed to Rory Kavanagh during the game.
Following the game, Donegal's Martin O'Reilly was taken to hospital after being taken off the field because of suspected concussion but when asked whether he had seen the second-half incident, a smiling McGuinness said:"Not a lot".