Derry and Monaghan win to book semi-final berths in McKenna Cup
Last updated on .From the section Gaelic Games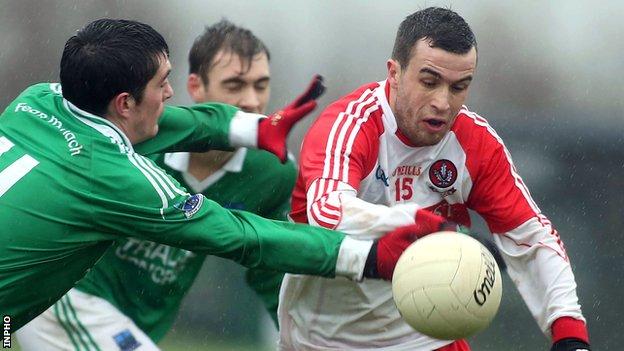 Anthony O'Neill top-scored with 1-3 for Derry as the Oak Leafers claimed a 1-17 to 0-14 win over St Mary's in Section B to book a semi-final date with Tyrone.
Claudy clubman Aaron Kerrigan scored 0-5 with the 23-year old also aiding O'Neill to bag the only goal of the game in the 28th minute.
St Mary's led 0-5 to 0-2 early on but O'Neill's goal helped Derry lead 1-7 to 0-7 at the interval.
Monaghan secured their semi-final spot with a 2-20 to 0-11 win over Fermanagh.
At Owenbeg, St Mary's started strongly and raced to a 0-5 to 0-2 lead at the end of the opening quarter with Peter Carragher and Thomas Canavan among the early scores for the students.
O'Neill's goal handed Derry a 1-4 to 0-6 lead approaching the break, with two points from Kerrigan and another from Niall McFeely ensuring Derry led by 1-7 to 0-7 at half-time.
The sides were tight over the third quarter, with Fermanagh's Richard O'Callaghan and Canavan cutting the gap to a point at 1-9 to 0-11 with 20 minutes remaining.
However, the introduction of the experienced Mark Lynch and Patsy Bradley saw Derry begin to pull away, with O'Neill, Gerard O'Kane, Enda Lynn, Ciaran McFall, Lynch and Kerrrigan seeing Derry home to a six-point win with a final-quarter scoring burst.
Derry's win set up their last-four clash with Tyrone at Omagh on Sunday.
Monaghan's 15-point win over Fermanagh confirmed their semi-final spot as their scoring difference was significantly better than both Donegal and Antrim.
Paul Finlay scored his 500th point for Malachy O'Rourke's side as they booked a last-four encounter, with neighbours Cavan.
The visitors led by 1-10 to 0-7 at half-time, with Shane Carey bagging their goal.
Brothers Seamus and Sean Quigley tried hard to keep Fermanagh in touch, but Monaghan stormed to a six-point interval lead, with Finlay and Thomas Kerr on target.
Fermanagh tried to summon up a revival after the restart but Monaghan keeper Damien Lavelle denied Sean Quigley with a fine save.
Finlay's milestone score put Monaghan 1-16 to 0-8 ahead with Christopher McGuinness netting the visitors second goal soon after to pave the way for a 15-point win.
Monaghan will face neighbours in Sunday's semi-final at Brewster Park, Enniskillen (14:00 GMT).
Power NI Dr McKenna Cup results
Section A
Tyrone 5-16 0-07 Armagh
Donegal 3-16 3-05 Queen's University
Section B
Fermanagh 0-11 2-20 Monaghan
Derry 1-17 0-14 St Mary's College
Section C
Down 0-10 1-12 Antrim