GAA director-general Duffy fury over bite on Donegal's McBrearty
Last updated on .From the section Gaelic Games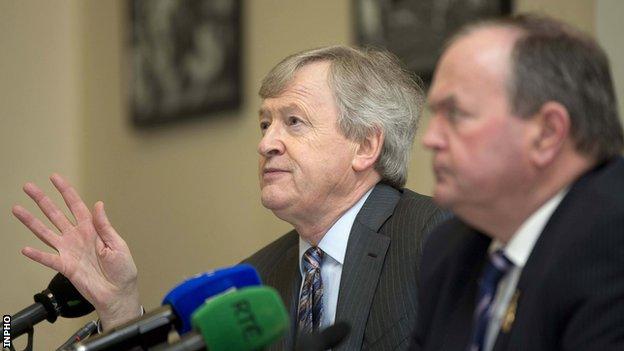 GAA director-general Paraic Duffy has strongly criticised Dublin and Donegal in the wake of the controversy surrounding the bite sustained by Paddy Brearty in a league match last April.
Speaking in his annual report, Duffy said it was "reprehensible" that no-one was held to account for the incident.
A Dublin player had a three-match ban proposed but the charge was found to be "not proven" at a subsequent hearing.
McBrearty did not provide evidence at the second hearing.
Donegal were then criticised by GAA President Liam O'Neill for not seeing the case through although county boss Jim McGuinness subsequently strongly defended McBrearty, insisting that the Central Hearings Committee had been furnished with all the necessary information.
Duffy's latest comments on the issue come as the Leinster Council are surveying another biting allegation against a Dublin player following a recent O'Byrne Cup match against DCU.
Monaghan man Duffy described biting on a football field as "primitive behaviour" and "shocking and dangerous".
Duffy added that the controversy was one of the "the low points of 2013" and adding that the bite mark sustained by the Donegal man had been "severe".
"That was a disgusting and shocking incident in itself but what is just as reprehensible is that no-one could be held to account for what happened," continued the GAA director-general.
"The Central Competitions Control Committee investigated the matter as thoroughly as possible but was greatly hindered by the absence of video and other evidence.
"The CCCC, therefore, was reliant on the integrity of those involved to play their part in ensuring that justice was served.
"However, no one was proved to have inflicted the bite simply because no one admitted to having done so and because the player who was bitten decided not to attend a hearing on the case.
"The counties involved may have chosen to deal with this incident solely in terms of their own interests...they did not emerge with any credit and succeeded only in damaging the reputation of the Association."
Commenting on the introduction of the black card in football, Duffy said that there would be no u-turn on the new rule.
"Let one thing be clear: there can be no turning back.
"Indeed, the introduction of the black card can only be a beginning in the effort to allow Gaelic football achieve its full potential."
Duffy also made clear his displeasure at Donegal's decision to put their club football championship on-hold until the exit of the county from next's All-Ireland Championship.
"If that county reaches the All-Ireland final on the third Sunday in September, its club championship is going to be squeezed into a rushed and congested set of fixtures, an arrangement that shows neither concern nor respect for club players."