Down to play 2013 Ulster Hurling final and Kehoe semi this weekend
Last updated on .From the section Gaelic Games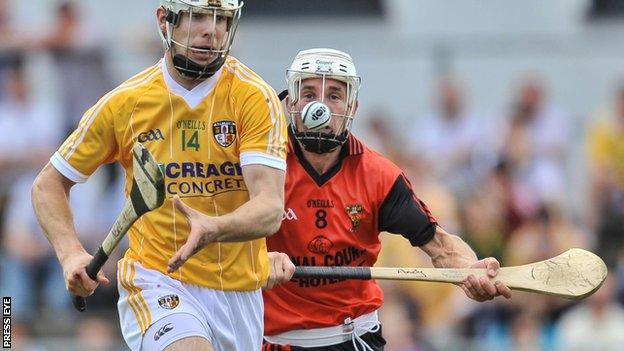 Down will play the much-delayed 2013 Ulster Hurling final against Antrim in Celtic Park on Sunday 24 hours after a Kehoe Cup semi-final.
The Ulster final was in doubt after Down were double-booked for Sunday but they have switched the Kehoe Cup semi-final against Kildare to Saturday.
The Down county board discussed the issue on Monday and moved the Kildare game after "lengthy negotiations".
Down are expected to field a weakened team in the Ulster Final.
The provincial decider was postponed twice last year.
The game was originally to be played on 7 July, 2013 - it was then rescheduled for 3 November, before being postponed again.
This was because the November date fell during the closed inter-county period.
The final was originally put off from its July date because that day was required for Down's semi-final replay with Derry.
Holiday commitments prevented the game taking place in the following weeks.
And when the game was arranged for 3 November in early September, the Ulster Council explained that this decision was taken "to ensure that clubs have access to all players for the duration of the county and provincial club championships".
But the provincial body had apparently overlooked the GAA's closed autumn period when arranging the game for 3 November and they were thus left with no option but to postpone the game again.
At this stage, the Ulster Council insisted that it was committed to playing the game in due course and as expected this proved to be a date in 2014.
Speaking in Dublin on Monday, GAA president Liam O'Neill defended the Ulster Council's stewardship of the caman game in the northern province.
O'Neill insisted that the Ulster governing body remained fully committed to the promotion of hurling and said that the fault lay in agreeing to postpone the game after the Down v Derry replay had forced the provincial programme back by one week.
However, the Gaelic Players Association's chief executive Dessie Farrell said that the Ulster Council "has to be be held accountable" for the long-running saga.
"In the modern era it's not good enough to be quite frank. The games are pivotal to the overall success of the association," added Farrell.
Down's semi-final against Kildare on Saturday will be played at Newbridge with a 14:00 GMT throw-in.