Down stalwart Peter McGrath relishing unexpected Erne voyage
By John Haughey
BBC Sport NI
Last updated on .From the section Gaelic Games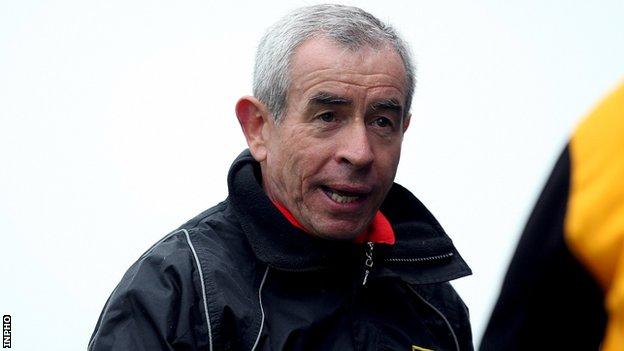 Peter McGrath smiles as he recalls how unexpected events suddenly propelled him towards his Erne voyage.
"Through the media you were reading that an appointment still hadn't been made but I wasn't paying an awful lot of attention to it," says the two-time Down All-Ireland winning manager.
"Then I got a phone call on a Monday through a third party to see if I would be interested even in talking to the people in Fermanagh.
"I took 24 hours to think about it. Then I spoke to two officials from the county board on the Wednesday and they said that there was a county board meeting the next night and they hoped to make an appointment at that.
"It all happened as quickly as that."
A month earlier, McGrath had been left somewhat taken aback when his third spell as Down minor football boss was ended by the Mourne County's board.
Granted there had been no Ulster or All-Ireland titles in his final three-year Mourne minor tenure - unlike, 1986 and 1987 - but McGrath believed his record and service warranted a bit more respect.
"I had won six Ulster titles at different levels and three All-Irelands in a county that hasn't won an awful lot more than that over the past 30 years and felt the least they could have done was give me and my men another year or two.
"They chose not to and that did disappoint me. I thought maybe I deserved better but you move on."
At that stage, the two-time All-Ireland senior boss didn't anticipate that the "moving on" process would involve being back in a senior county job within five weeks.
There were a few issues to consider as the 60-year-old asked for 24 hours to think over the Erne offer.
"But at the end of it all, my decision was reached by asking myself one question - do you want to manage at this level again because this could be your last chance?"
McGrath insists that evaluating the Erne County's apparent playing strength was not a major element in his decision-making process.
"If you had asked me to name six Fermanagh players, I couldn't have done it."
Undaunted, McGrath, aided by his main back-room men former Fermanagh player Raymond Johnston and Leon Carters, went about the process of organising trials and challenge matches to assess what raw material was out there.
McGrath cautions that "it's early days" but he says that he has been heartened by the young talent in the county and also delighted by the support being given by the county board.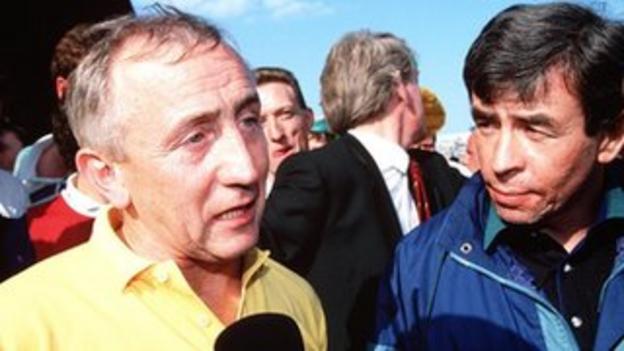 He reels off a succession of young players including the Cullen twin brothers, Che and Lee, Tiarnan Daly, Eddie Courtney, Sean Quigley, Ryan Jones, Richard O'Callaghan and not forgetting the squad's new captain Eoin Donnelly.
"The safe thing would be to go back to the tried and the tested players who maybe didn't get you where you wanted to be in the past.
"There is no point in revisiting that. You should be more adventurous and look to the future and show confidence in younger players."
McGrath acknowledges Fermanagh's underage record in recent times "wouldn't give you great optimism" but from his long service at St Colman's College, he knows St Michael's Enniskillen have produced consistently strong MacRory Cup teams in recent decades.
"Given how well St Michael's have done, there have to be good players out there.
"All they might need is the proper encouragement and opportunity and that support system that all young players need.
"Granted, Fermanagh draw from a smaller pool of players than Down and certainly Derry or Tyrone and unlike other counties, Fermanagh always need all their best players on the pitch.
"But I am convinced there are talented young players in Fermanagh who deserve the opportunity and who if given it will serve the county well."
McGrath's Erne mission statement includes getting the best out of the mercurial talent that is Seamus Quigley.
The burly Roslea man has produced passages of brilliance in a so-far chequered inter-county career but for a man of his undoubted talents, they have been all too fleeting.
Last year for example, he wasn't involved at all after a parting of the ways the previous summer with then manager Peter Canavan prior to 2012 Ulster defeat by Down.
The new Fermanagh boss appears optimistic he can succeed where others have seemingly failed.
"Seamus Quigley is now 25 or 26 and he has gone on record as saying that his ambition this year is to play for Fermanagh in the Championship against Antrim so he wants to last the course.
"He would need to get a bit fitter maybe but in terms of doing the unexpected and being able to do things with the ball that others can't do, some of the scores that he gets are outrageous.
"It is my hope and wish that he sticks at it and that he gets himself into the best shape of his life. If that's the case, he will make a massive contribution."
In actual fact, for the long-term good of the game, McGrath believes it's essential places are found in modern inter-county football teams for the gifted individuals who perhaps don't tick all the dreaded boxes.
"I would hate to think somewhere down the line that the game would be so strategically planned that people would almost deny people who are genuinely talented geniuses the right to express themselves.
"Players can't be told every blessed thing on a pitch by a manager and exactly what to expect and do in every given situation.
"God forbid football ever becomes like that because players would just become automatons."
And the football romantic in the former Down boss confesses to genuine fears that the game could be losing "that spontaneity or sense of adventure".
"To some extent, it (the emphasis on game plans and tactics) has made inroads in nibbling away at skills," he believes.
The Erne boss also acknowledges worry about the apparent continuing evolution of the game towards becoming a "battle of big hits".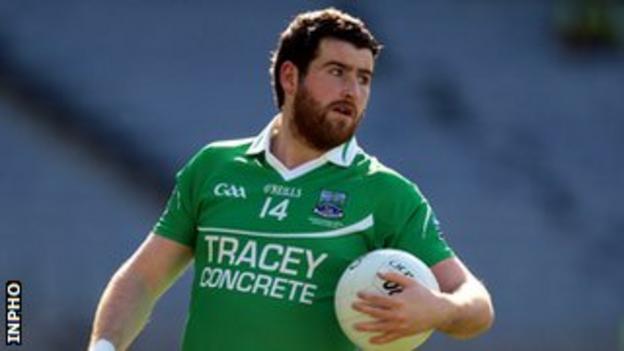 "I would hate if gaelic football went down the same road as rugby at the highest level where it's all about power and impact and how much damage you can inflict.
"I think there's a price to be paid by those (rugby) guys down the line.
"I would just worry if it becomes over-physical in the sense that players in later life might regret even playing gaelic football. The GAA has to be aware of that."
Asked about his Down glory years, McGrath's pride is palpable when he recalls being a key part of the epic Ulster Championship clash between the Mourne men and then All-Ireland champions Derry in 1994.
"Those two teams were actually able to produce football of that standard and that intensity in a first-round game in May.
"The Dublin and Kerry game in '77 and again their great match last year, they were August games with a whole summer behind them.
"But those two teams in '94 hit that standard right at the start of the season which I think was incredible.
"I think that game was without doubt the best ever Ulster Championship match and you would certainly put it in the top five or six greatest games ever played."
Granted, McGrath did have to show sharp tactical acumen himself that day as he moved Paul Higgins to mark a previously rampant Joe Brolly during the contest and also came up with the masterstroke of employing James McCartan at wing-forward.
"In the two previous years in 92 and 93, Kieran McKeever had bottled James up so it was essential that we got him out of that," recalls McGrath.
"God rest Eamon Coleman. I met him about a fortnight after we won that All-Ireland and Eamon said: 'There is one question I want to ask you. Did you move wee McCartan out to half-forward to get him away from McKeever? I said, 'I did Eamon'.
The much-loved Coleman's reply did not make the cut for this article.
As regards, Down's triumph from three years earlier, the Rostrevor man insists that he knew his team were going to win the All-Ireland after they had outplayed Donegal in the Ulster Final, even though they had still had to play Kerry and Meath.
"It was because I could see the brilliance in the forward line. The (Greg) Blaneys, Mickey Linden, Wee James, Ross Carr. Those guys had it all.
"On any given day, if one or two weren't playing well, the others would and that would be enough to get you over the line."
Over 20 years on, McGrath is still happy to feel the "mixture of excitement and trepidation" as another competitive season is about to start.
Cavan represents a tough start to the Erne County's Division 3 campaign on Saturday night at Breffni Park with their opening home game coming up against Sligo a week later.
"You would like to think we will get some points on the board from our first two games against Cavan and Sligo.
"Going into a two-week break on the back of two defeats would be a bit depressing and discouraging for players."
It's a typical Pete McGrath answer with no hiding.