Two Fermanagh GAA players dropped for playing soccer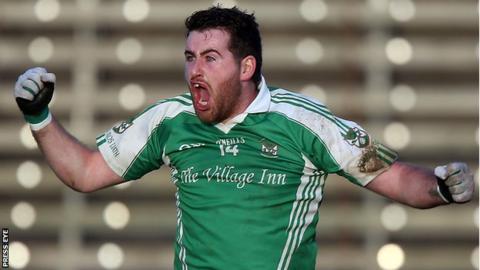 Fermanagh's Seamus Quigley and Niall Cassidy were dropped from Fermanagh's GAA panel on Saturday because they had played soccer earlier in the day.
The pair had been selected as substitutes for the Football League Division Three match at home to Sligo.
They were removed from the team list when manager Pete McGrath discovered they had turned out for soccer clubs.
"It was exceptionally childish, selfish and short-sighted on their part to do that," said McGrath.
"The decision was easy. The players were told that they would not be part of the squad and they were removed from the panel.
"We have made it clear we do not want anyone playing soccer at any time.
"The two players are still part of the panel for the future - they were dropped from the squad just for that match because they had played soccer earlier in the day."
Fermanagh beat Sligo 2-13 to 1-10 at Brewster Park and are fourth in the Division Three standings with two points, having lost their opening match against Cavan.