Armagh trio unavailable to Ulster football manager Joe Kernan
Last updated on .From the section Gaelic Games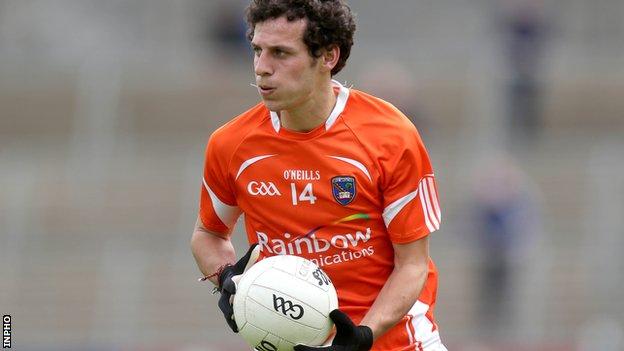 Ulster Interpros boss Joe Kernan has spoken of his disappointment at being unable to pick Armagh players for Sunday's semi-final against Leinster.
Kernan did intend to select Armagh trio Kevin Dyas, Ciaran McKeever and Jamie Clarke in his squad for Sunday's game at Navan.
"But I was then told that they had been asked not to join us (by the Armagh management)," Kernan told BBC Sport NI.
"It's a pity but there's nothing we can do about it."
Armagh are managed by Paul Grimley, who was then manager Kernan's assistant when the Orchard County earned the county's one and only All-Ireland Senior Football title in 2002.
However, Grimley quit Kernan's backroom team in 2006 a year before Kernan stepped down from the Armagh job.
Armagh have earned only one point from their opening two Football League Division 2 games and the county's management, which now also includes Kieran McGeeney, appear to believe that the Interprovincial competition would represent an unnecessary distraction at this stage.
In all seven of the nine Ulster counties will be represented at Pairc Tailteann.
Antrim's Kevin O'Boyle was also picked in Kernan's initial squad but will now miss the game after suffering a broken ankle in last weekend's Football League Division 4 defeat by Wicklow.
Tyrone lead the way with seven representatives including Interprovincial newcomers Niall Morgan, Conor Clarke, Matthew Donnelly and Darren McCurry.
Donegal are represented by Karl Lacey, Mark McHugh, Michael Murphy and the McGee brothers while Cavan's four players are David Givney, Eugene Keating, Rory Dunne and Cian Mackey.
Ulster champions Monaghan have four squad members in the shapes of Rory Beggan, Colin Walshe, Conor McManus and Kieran Hughes while Derry trio Chrissy McKaigue, James Kielt and Sean Leo McGoldrick should go into the game on something of a high after last weekend's splendid League win over Kerry.
Fermanagh trio Ryan McCluskey, Eoin Donnelly and Ryan Jones are also picked along with Down duo Mark Poland and Kevin McKernan.
Ulster will be aiming to stay on course for a fourth successive Interprovincial title.
Ulster Football squad
David Givney, Eugene Keating, Rory Dunne, Cian Mackey (all Cavan), Chrissy McKaigue, James Kielt, Sean Leo McGoldrick (Derry), Neil McGee, Eamonn McGee, Karl Lacey, Mark McHugh, Michael Murphy (Donegal), Mark Poland, Kevin McKernan (Down), Ryan McCluskey, Eoin Donnelly, Ryan Jones (Fermanagh), Rory Beggan, Colin Walshe, Conor McManus, Kieran Hughes (Monaghan), Peter Harte, Sean Cavanagh, Niall Morgan, Conor Clarke, Colm Cavanagh, Matthew Donnelly, Darren McCurry (Tyrone)