Antrim hurling receives cash boost at Congress
Last updated on .From the section Gaelic Games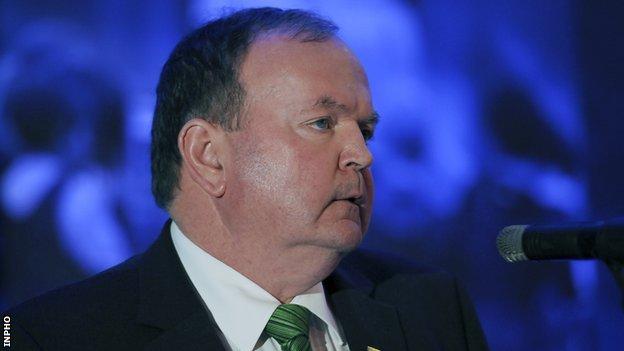 Antrim will be one of four counties to benefit from a new one-million Euro Hurling fund over the next five years.
GAA president Liam O'Neill announced the cash injection in his speech to delegates at the GAA Congress at Croke Park on Saturday.
€900,000 of these funds will be spent over five years to improve performance of the senior hurling teams in Antrim, Carlow, Westmeath and Laois.
Delegates decided that match bans will replace the previous time-based system.
The new system, which will apply at all levels, was proposed by the GAA's Rules Advisory Committee and passed by 223 votes to 20.
Match suspensions as opposed to time suspensions at all levels of the association will be in place from a month's time.
A four-week suspension up to now will now be a one-match ban, eight weeks suspension now equals a two-match ban and a 12-week suspension will now be a three-match ban.
Another innovation voted through was giving referees the power to send a player who uses racist or sectarian language off.
The rule, as it stands, doesn't explicitly state that such abusive language is a sending off offence.
As part of the investment in the future of hurling, €100,000 goes to player development projects in other Hurling Development counties.
"The investment will be subject to annual submissions by the four counties," the GAA president told delegates.
"These submissions must reflect key aims and objectives of the programme and application for funding should also be subject to compliance with reporting and review mechanisms.
"The four named counties will be entitled to make an annual submission seeking funding of up to €45,000 [a combined total of €180,000 per annum]. This submission will be based on a plan for the following year to be submitted in November."
"While the overall objective should be to improve the performance of the senior inter-county team, in reality this cannot be achieved without having regard for the underage structures - up to and including Under-21 level - that ultimately underpins success at senior inter-county level," O'Neill said.
"In this regard each county must commit to a minimum spend of €10,000 per annum on improving and enhancing hurling development at Minor and Under-21 level within the county."