Aogan Ó Fearghaíl wants focus on Belfast GAA regeneration
Last updated on .From the section Gaelic Games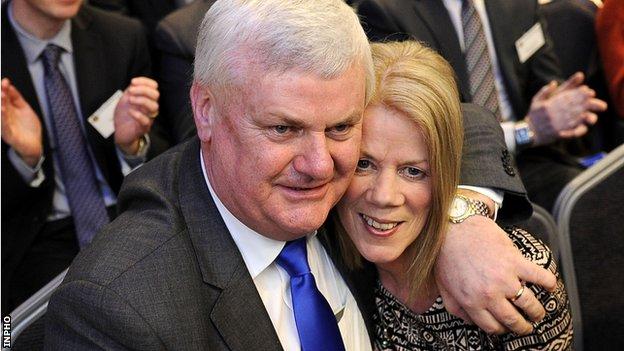 GAA President-elect Aogán Ó Fearghaíl has said regenerating the GAA in Belfast will be one of his key aims during his three-year stint.
"I can't understand why hurling in Belfast is not much stronger," Ó Fearghaíl told BBC Sport NI on Monday.
"That's an area I would certainly like to look at."
The GAA president added that "Ireland's second city has a huge population and a massive number of clubs and people".
Ó Fearghaíl believes Belfast should follow the model which, he says, has helped Dublin to re-emerge as a hurling force over the last five years.
"Coaching is hugely important and having a strong link between our schools, colleges and clubs.
"People talk about the investment that has gone into Dublin but the real key in Dublin has been the link between the schools and the clubs.
"Clubs all adopt a school and guys from the clubs go into the schools every single week. Not just for a six-week block.
"They go in every single week and they play hurling with the children.
"We had to look at models like that and Belfast in particular can be a growth area for us."
The president-elect reiterated his previously stated wish that the GAA should aim to attract participants from all sections of the community in Ulster.
GAA participants in the Northern Ireland counties overwhelmingly come from the nationalist community but Ó Fearghaíl wants the association to become more "welcoming" to people from other backgrounds.
"There are many people in Ireland and especially in our own province in Ulster, who in the past weren't part of the GAA.
"The GAA is a family and any family should be welcoming and I would like to see our family grow.
"I would certainly be encouraging all our units to be as welcoming as possible to everybody."
The president-elect pointed out the range of pupils from different ethnic backgrounds at Dernakesh National School in rural Cavan, where he is school principal.
"Many of the children come from what you might call, traditional Catholic backgrounds but we have pupils from Pentecostal, Church of Ireland and increasingly, many children from no religious backgrounds.
"Here, we have children or Lithuanian, Romanian and Nigerian origin but it doesn't matter. They are all Irish now.
"We have to be like that. Inclusive in the GAA and I'd love to see more and more people from all backgrounds involved in the GAA.
"But it has to be friendly and welcoming towards them. It's no use just saying it."
Ó Fearghaíl believes that the GAA's decision to vote to make racist or sectarian abuse a sending-off offence is showing the association's inclusivity bona fides.
"Any form of sectarian abuse or racial abuse is wrong. It does happen but not often and we need to remind ourselves of that.
"(But) It's good that we passed the motion because it's a very clear indication from the GAA that anything to do with racism or sectarianism is not going to be tolerated."