Football League Division 1: Kildare 1-21 3-16 Tyrone
Last updated on .From the section Northern Ireland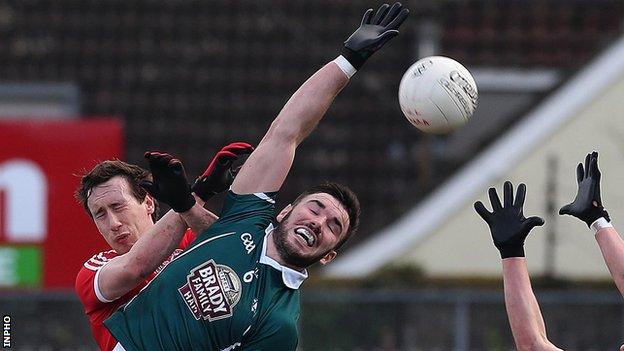 Tyrone hit two goals in the final 90 seconds of action to snatch a dramatic one-point win over shell-shocked Kildare in a thrilling Football League Division 1 clash at Newbridge.
Kildare led 0-7 to 0-0 and 0-10 to 0-3 before Emmett McKenna's goal helped cut the margin to 0-13 to 1-9 at half-time.
However, Kildare regained control and looked to have the game won as they led 1-21 to 1-16 after 69 minutes.
However, Ronan O'Neill's goal was then followed by another from Mark Donnelly.
Donnelly's palmed effort was the second last touch of the game as the full-time whistle was blown immediately after Shane Connolly's kick-out.
Kildare will struggle to figure out how they managed to lose this game.
Their midfield domination finally appeared to have subdued Tyrone in the closing stages helped by brilliant displays from Sean Hurley, Tommy Mollick, Eoghan O'Flaherty, Darroch Mulhall and impressive full-forward Tomas O'Connor.
However on their 10th anniversary of Cormac McAnallen's death, Tyrone's refused to accept their seemingly inevitable defeat.
And after a terrible line ball had gifted O'Neill his goal as the match was about to go into injury-time, the Reds Hands managed to produce another last-gasp attack which culminated in Donnelly palming the ball to the net as the Kildare defence appeared paralysed.
Kildare produced a brilliant opening 10 minutes of action as four O'Flaherty points helped them take a 0-7 to 0-0 advantage.
Mattie Donnelly's opening Tyrone point was quickly followed by a Ronan O'Neill score, which skimmed the crossbar as he attempted to go low, but Kildare had re-established a seven-point advantage by the 18th minute after a Mollick point left them 0-10 to 0-3 ahead.
However despite continuing to struggle at midfield, Tyrone had the better of the second quarter helped by McKenna's goal which cut Kildare lead to 0-11 to 1-6.
By that stage, Tyrone had lost the influential Peter Harte to a black card after he hauled down the superb O'Connor.
McKenna and O'Neill hit the two final scores of the first period to leave the minimum between the teams at the break.
With the long ball into target man O'Connor continuing to wreak havoc in the Red Hand defence, Kildare notched an immediate goal after the restart with the full forward palming O'Flaherty's long ball past Niall Morgan.
Darroch Mulhall's point extended Kildare's lead to five only for Tyrone to fight back with four straight scores including a superb 44th-minute effort from comeback man Sean Cavanagh.
But Kildare responded with three unanswered scores of their own - including Mulhall's fifth point - to lead by four with 13 minutes remaining.
Over the next 12 minutes of play, the margin was never closer than three and O'Flaherty's sixth point in the 67th minute appeared to have firmly closed the door on the Red Hands as Kildare led by five.
Captain Cavanagh admitted after the match that even he thought the game was "over" but that didn't stop the Red Hands producing one of the most remarkable comebacks in living memory.
O'Neill's goal came as Kildare attempted to play keep ball in their own defence after they had won a line ball and incredibly, Tyrone had snatched victory less than a minute later as Coney set up Donnelly to palm past Connolly.
Tyrone (v Kildare): N Morgan, A McCrory, C Clarke, B Tierney, C McGinley, P Harte, R McKenna, C Grugan, C Cavanagh, E McKenna, R O'Neill, S Cavanagh, D McCurry, M Donnelly, C McAliskey.
Kildare: S Connolly; M O'Grady, M Foley, H McGrillen; K Murnaghan, F Conway, P Cribben; T Moolick, G White; C McNally, E O'Flaherty, S Hurley; P Brophy, T O'Connor, D Mulhall
Weekend Football League results
Division One
Dublin 0-18 1-17 Cork
Mayo 2-15 1-13 Kerry
Derry 3-16 0-12 Westmeath
Kildare 1-21 3-16 Tyrone
Division Two
Down 4-16 0-09 Louth
Meath 2-10 0-19 Armagh
Laois 1-20 0-08 Galway
Donegal 2-11 0-10 Monaghan
Division Three
Sligo 0-18 1-12 Offaly
Roscommon 1-21 0-13 Limerick
Wexford 0-06 0-13 Cavan
Longford 1-15 2-11 Fermanagh
Division Four
Leitrim 1-17 1-08 Carlow
Antrim 1-17 0-06 Waterford
Clare 2-13 1-08 Wicklow
London 1-07 1-19 Tipperary