Division 3 Football League: Longford 1-15 2-11 Fermanagh
Last updated on .From the section Northern Ireland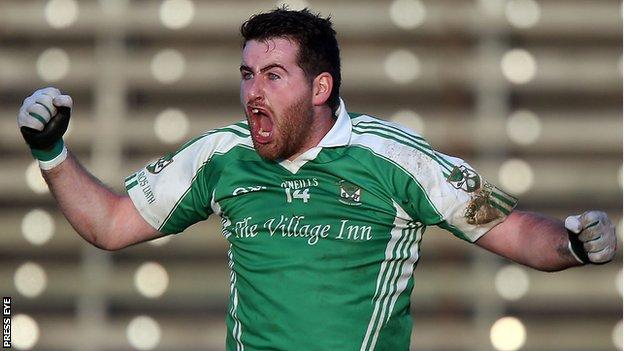 Fermanagh squandered a nine-point advantage as they suffered a one-point defeat by Longford in the Division 3 Football League clash at Pearse Park.
The Erne County appeared in complete control as goals by the recalled Seamus Quigley and his brother Sean helped them to an early 2-5 to 0-2 lead.
But a Brian Kavanagh goal helped cut the margin to four by the interval.
Longford totally dominated after half-time to move four ahead and Fermanagh's late rally proved insufficient.
Manager Peter McGrath will wonder how his team managed to snatch defeat from the jaws of victory.
After the morale-boosting win over Sligo last time out, this demoralising defeat will lead to renewed worries about whether the Ernemen will be able to hold on to their Division 3 status.
Sean Quigley scored Fermanagh's first goal in the 10th minute after his brother Seamus had knocked down a long ball from Ryan Jones.
Seamus Quigley, back in the team after being dropped for the win over Sligo because of playing junior soccer on the day of the match, netted the second goal from a penalty after a Richard O'Callaghan shot had been saved by a foot block.
Further points from Paul McCusker and Seamus Quigley extended the Fermanagh lead to 2-5 to 0-2 as they appeared in total control.
However, the halting of play for several minutes because of an injury to Longford's Michael Brady appeared to disrupt Erne concentration as the home side his 1-3 without replay, including Kavanagh's goal.
Points on either side of the break by the Quigley brothers extended Fermanagh's lead to five again but the roof fell in on the Erne display over the next 20 minutes as Longford notched 10 out of 11 scores to move four ahead.
Fermanagh did reduce Longford's lead to the minimum in the closing stages but the Ernemen were left with much soul-searching for the journey home as the final whistle sounded.
Fermanagh: T Treacy; J Woods, T Daly, C Quigley; D McCusker, R McCluskey, T McElroy; E Donnelly (capt), R O'Callaghan; L Cullen, R Jones, P McCusker; Seamus Quigley, Sean Quigley, T Corrigan.
Weekend Football League results
Division One
Dublin 0-18 1-17 Cork
Mayo 2-15 1-13 Kerry
Derry 3-16 0-12 Westmeath
Kildare 1-21 3-16 Tyrone
Division Two
Down 4-16 0-09 Louth
Meath 2-10 0-19 Armagh
Laois 1-20 0-08 Galway
Donegal 2-11 0-10 Monaghan
Division Three
Sligo 0-18 1-12 Offaly
Roscommon 1-21 0-13 Limerick
Wexford 0-06 0-13 Cavan
Longford 1-15 2-11 Fermanagh
Division Four
Leitrim 1-17 1-08 Carlow
Antrim 1-17 0-06 Waterford
Clare 2-13 1-08 Wicklow
London 1-07 1-19 Tipperary