Football League Division One: Kerry 3-15 0-9 Tyrone
Last updated on .From the section Gaelic Games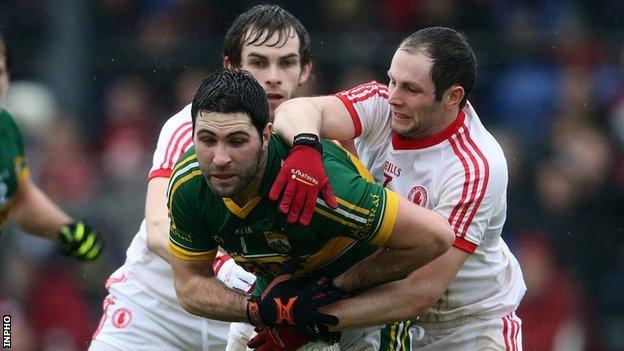 Tyrone suffered their heaviest defeat in Mickey Harte's tenure, losing by a massive 15 points at the hands of a rampant Kerry side in Killarney.
James O'Donoghue scored a superb hat-trick of goals, while Bryan Sheehan marked his first appearance of the season by scoring eight points.
The first half was close but Tyrone got just one point in the second and ended up on the wrong end of a hammering.
It was Kerry's first win of the 2014 league campaign.
Goalkeeper Niall Morgan produced two superb saves in the opening five minutes, and Kerry eased ahead with scores from Barry John Keane and Bryan Sheehan.
But the Red Hands stayed in touch with two scores each from Peter Harte and Ronan O'Neill.
Tyrone continued to press, and went in front for the first time in the 25th minute through Darren McCurry
Sheehan kept the home side in front with his pinpoint accuracy from long range frees, and late in the half, McCurry and O'Donoghue swapped points, the sides level at 0-8 each at the break.
Substitute Ciaran McGinley regained the lead for Tyrone with his first touch, but again, Sheehan was the man with the scoring touch, bring Kerry level, before midfielder Anthony Maher galloped through to punch over the lead point.
And they struck for a goal in the 38th minute. Substitute Kieran O'Leary thumped in the long ball, which was broken by Paul Geaney into the path of O'Donoghue, and he showed a clean pair of heels to Barry Tierney before smashing a bullet past Morgan.
Geaney and Sheehan tagged on points, and Kerry were suddenly in the comfort zone, six points clear going into the final quarter.
And they wrapped up a comprehensive win with O'Donoghue scoring nine minutes from the end, picking his spot in the bottom corner after substitute Darran O'Sullivan had created the opening.
Kerry: B Kelly, P Murphy, M Griffin, S Enright, P Crowley, F Ftizgerald, M O Se, A Maher (0-1), D Moran, D Casey, B Sheehan (0-8, 7f), D Walsh, BJ Keane (0-1), S O'Brien, J O'Donoghue (3-3, 0-2f).
Subs: P Kilkenny for Enright K O'Leary (0-1) for Walsh, P Geaney (0-1) for Keane, D O'Sullivan for Casey, A O'Mahony for Crowley, J Buckley for Sheehan
Tyrone: N Morgan (0-2, 2f), PJ Quinn, C Clarke, B Tierney, R McNamee, P Harte (0-2), R McNabb, C Cavanagh, S Cavanagh, E McKenna, R O'Neill (0-2, 2f), S McGuigan, D McCurry (0-2), Mattie Donnelly, P McNeice.
Subs: C McGinley (0-1) for McNabb, Mark Donnelly for McNeice, N McKenna for McGuigan, C Grugan for E McKenna, A McCrory for Quinn
Referee: R Hickey (Clare).
Allianz Football League results
Saturday 8 March
Division One
Dublin 1-22 1-12 Kildare
Division Two
Armagh 2-18 1-12 Laois
Sunday 9 March
Division One
Cork 2-18 3-14 Derry
Kerry 3-15 0-9 Tyrone
Westmeath 3-9 2-17 Mayo
Division Two
Donegal 1-12 1-12 Meath
Galway 1-12 0-8 Down
Monaghan 2-14 0-12 Louth
Division Three
Cavan 1-12 0-10 Sligo
Fermanagh 4-10 3-17 Roscommon
Limerick 1-14 1-13 Wexford
Offaly 1-10 1-15 Longford
Division Four
Carlow 3-15 2-17 Antrim
Tipperary 3-9 0-14 Clare
Waterford 0-9 2-10 London
Wicklow 0-11 1-17 Leitrim