Football League Division One: Derry 1-16 0-13 Dublin
Last updated on .From the section Gaelic Games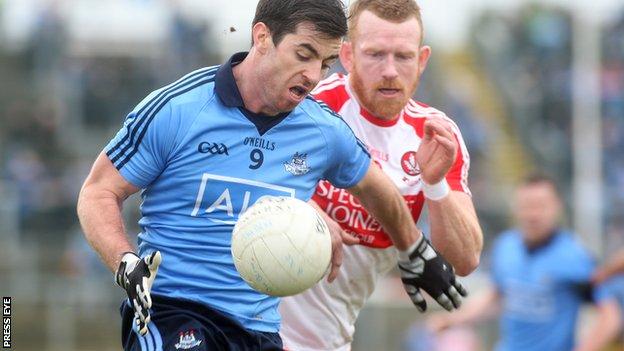 Mark Lynch inspired Derry to victory over All-Ireland champions Dublin in Sunday's Football League encounter.
The Dubs were admittedly under-strength but there was still plenty to admire about Derry for whom Lynch hit 1-8.
The sides swapped the lead before Lynch's 32nd-minute goal helped Derry move 1-10 to 0-9 ahead at half-time.
After Derry extended their lead to six, Dublin cut the margin to three before Derry regrouped as Mark Craig and Philly McMahon received late red cards.
Derry corner-back Craig received his marching orders in the 59th minute after getting yellow and black cards in quick succession while McMahon was dismissed following an apparent off-the-ball challenge on Oak Leaf danger-man Lynch.
In addition to Lynch, midfielder Fergal Doherty starred for the winners while Benny Heron was among other players to impress at Celtic Park.
Late selection, Alan Brogan opened the scoring for the Dubs and he looked sharp on his return to action as he bagged six points during the 70 minutes.
Derry fought back with three unanswered points from Declan Mullan, Lynch and the lively Ciaran McFall but Dublin responded with four of the next six scores to lead 0-6 to 0-5.
As the contest continued to see-saw, points from Lynch and Doherty moved Derry ahead again and the Bellaghy man's point probably should have been a goal as he fisted over with only Stephen Cluxton to beat from close range.
Lynch showed Doherty the way to finish as he ran straight through the Dublin defence to blast home to the net to put the Brian McIver's side 1-8 to 0-8 ahead and that advantage was extended to four by the interval.
Derry's final point of the half came after Cailean O'Boyle appeared to have been blatantly hauled down in the small parallelogram but the referee incredibly awarded a free out, with the Dublin defender also avoiding the dreaded black card.
Dublin sub Tomas Brady and Darren Daly both missed glorious goal chances after the restart as Lynch and Heron pointed to extend Derry's lead to six.
Michael Fitzsimons then had the ball in the Derry net but the referee had already blown up for a foul on Eoghan O'Gara, who tormented Chrissy McKaigue throughout the contest.
To compound Dublin frustration, the free was missed and despite a sustained period of domination, the Dubs could get no closer than three in arrears.
A scoreless period of 18 minutes for Derry was ended by Lynch's point on the hour, which came a minute after Craig's dismissal.
However, Dublin were then reduced to 14 a minute later after McMahon's unwise tangle with Lynch.
As the All-Ireland champions appeared resigned to it not being their day, two more Lynch scores and Heron's injury-time effort completed a win which puts Derry in a strong position to make the Division 1 semi-finals.
Allianz Football League results
Saturday 15 March
Division 2
Armagh 0-10 1-17 Monaghan
Laois 1-09 0-15 Meath
Sunday 16 March
Division 1
Derry 1-16 0-13 Dublin
Kildare 0-15 2-15 Kerry
Mayo 4-12 2-14 Cork
Tyrone 2-23 1-12 Westmeath
Division 2
Down 1-09 0-10 Donegal
Louth 2-09 0-15 Galway
Division 3
Limerick 1-06 0-18 Fermanagh
Longford 0-10 1-09 Cavan
Roscommon 3-19 2-04 Offaly
Wexford 2-12 1-12 Sligo
Division 4
Carlow 1-11 1-25 Wicklow
Tipperary 3-20 1-17 Antrim
Hurling League
Division 1A
Galway 3-16 1-19 Tipperary
Clare 5-18 0-20 Waterford
Division 1B
Antrim 1-12 0-18 Cork
Wexford 2-21 1-18 Laois
Offaly 2-15 2-15 Limerick
Division 2A
Kerry 3-14 0-17 Carlow
Kildare 1-14 3-11 Westmeath
Division 2B
Fingal 2-10 4-19 Down
Mayo 0-09 0-15 Wicklow
Armagh 3-09 1-21 Meath
Division 3A
Fermanagh 0-10 4-20 Roscommon
Donegal 3-16 1-07 Monaghan
Louth 3-11 1-10 Longford
Division 3B
Leitrim 2-11 2-09 Sligo