Football League Division Two: Down 1-09 0-10 Donegal
Last updated on .From the section Gaelic Games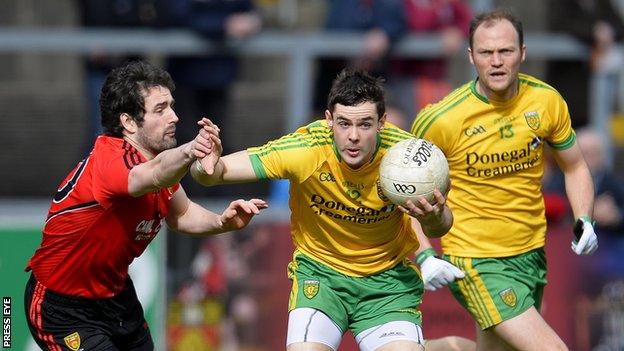 Down threw the Football League Division Two race wide open as they handed a first defeat of the campaign to leaders Donegal at Newry.
The Mournemen appeared to be denied a blatant penalty early on after Conor Laverty was hauled down by Donegal keeper Paul Durcan.
However, Niall Madine's goal soon afterwards helped Down lead 1-6 to 0-5 at half-time.
Scores were at a premium in the second half as the Mournemen held on to win.
Laverty was black carded late in the game for a cynical foul on Donegal substitute Patrick McBrearty as the Kilcar man ran through the Down defence.
A point resulted and while Donegal produced further late pressure, great defensive work by Kevin McKernan helped Down keep their noses in front.
Conor Garvey had opened the scoring in the sixth minute after while Down were then infuriated by the non-awarding of the penalty, their mood was soon improved by Madine's goal after a great run by Donal O'Hare.
Donegal's opening score didn't come until Dermot Molloy's 17th-minute point and Down were four clear at the break, helped by a couple of points from the impressive Mark Poland.
Points from Martin McElhinney and Leo McLoone reduced Down's lead to two after the restart only for O'Hare and Garvey efforts to leave four between the sides again.
Neither side was able to score during a 21-minute period in the second half, with Donegal in particular, firing several bad wides.
Sub Neil Gallagher and Colm McFadden did manage late Donegal points but they were unable to get on terms, as Laverty was content to 'take one for the team' as he blatantly fouled McBrearty in the closing stages.
Despite the defeat, Donegal remain on top of Division 2 but they have been joined on seven points by the Mournemen and Ulster champions Monaghan, while Meath and Armagh are also not out of contention on five points.
Allianz Football League results
Saturday 15 March
Division Two
Armagh 0-10 1-17 Monaghan
Laois 1-09 0-15 Meath
Sunday 16 March
Division One
Derry 1-16 0-13 Dublin
Kildare 0-15 2-15 Kerry
Mayo 4-12 2-14 Cork
Tyrone 2-23 1-12 Westmeath
Division Two
Down 1-09 0-10 Donegal
Louth 2-09 0-15 Galway
Division Three
Limerick 1-06 0-18 Fermanagh
Longford 0-10 1-09 Cavan
Roscommon 3-19 2-04 Offaly
Wexford 2-12 1-12 Sligo
Division Four
Carlow 1-11 1-25 Wicklow
Tipperary 3-20 1-17 Antrim
Hurling League
Division 1A
Galway 3-16 1-19 Tipperary
Clare 5-18 0-20 Waterford
Division 1B
Antrim 1-12 0-18 Cork
Wexford 2-21 1-18 Laois
Offaly 2-15 2-15 Limerick
Division 2A
Kerry 3-14 0-17 Carlow
Kildare 1-14 3-11 Westmeath
Division 2B
Fingal 2-10 4-19 Down
Mayo 0-09 0-15 Wicklow
Armagh 3-09 1-21 Meath
Division 3A
Fermanagh 0-10 4-20 Roscommon
Donegal 3-16 1-07 Monaghan
Louth 3-11 1-10 Longford
Division 3B
Leitrim 2-11 2-09 Sligo