Hurling League Division 1B: Antrim lose heavily to Offaly
Last updated on .From the section Gaelic Games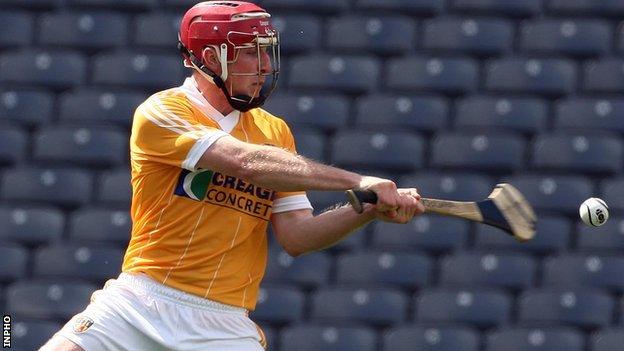 Antrim were well beaten 5-27 to 4-09 by Offaly in Sunday's Hurling Division 1B 'dead rubber' at O'Connor Park.
It was never a contest as Brian Whelehan's team coasted to a meaningless victory by 21 points.
Offaly were 5-16 to 1-03 up at half-time, Nigel Elliott scoring the Saffrons goal in the 13th minute.
Ciaran Slevin and Sean Cleary got early goals for Offaly and they were home and dry before PJ O'Connell's goals for the visitors after the break.
The Tullamore result did not really matter as it was already known that Offaly and Antrim would occupy the bottom two positions in Division 1B.
Antrim finish bottom of the table with no points, while Offaly move on to three after their only victory of the campaign.
The counties will meet again at Ballycastle next Sunday, 30 March, in the relegation play-off and Antrim will be expected to take matters more seriously for that one.
The losers could still survive in Division 1B by beating the winners of the 2A final between Kerry and Carlow.
Cork have finished top of Division 1B to secure an immediate return to the top division, a year after being relegated after losing to Clare in the play-off.
Clare have finished on top of Division 1A and are joined in the quarter-finals by Kilkenny, Galway and Tipperary while Dublin and Waterford must contest the relegation play-off.
HURLING LEAGUE RESULTS
SATURDAY
Division 3B
Liatroim 0-15 1-11 Warwickshire
SUNDAY
Division 1A
Kilkenny 4-22 0-14 Waterford
Tipperary 1-19 0-19 Dublin
Clare 0-18 1-15 Galway
Division 1B
Laois 1-13 1-17 Limerick
Cork 2-24 1-20 Wexford
Offaly 5-27 4-09 Antrim
Division 2A
Carlow 2-21 0-13 Westmeath
London 1-18 2-17 Kerry
Kildare 3-17 4-14 Derry
Division 2B
Down 2-08 0-11 Meath
Wicklow 3-32 2-08 Fingal
Armagh 1-11 1-19 Mayo
Division 3A
Roscommon 3-14 0-10 Longford
Monaghan 1-11 2-15 Fermanagh
Louth 1-15 2-15 Donegal
Division 3B
Sligo 1-10 2-16 Tyrone