Hurling League Division 1B: Antrim 1-18 1-14 Offaly
Last updated on .From the section Gaelic Games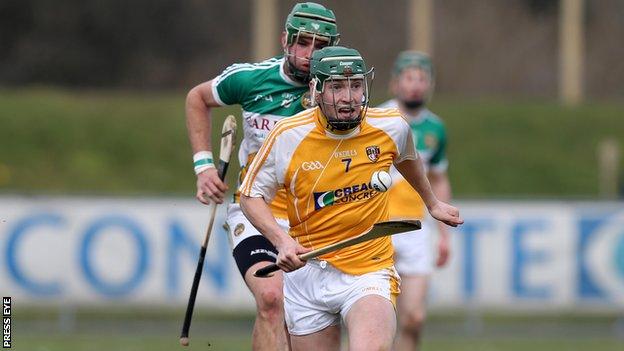 Antrim hurlers retained their Division 1B status by earning a fully-deserved four-point victory over Offaly in the relegation play-off at Ballycastle.
Stephen Quirke's goal helped Offaly lead 1-9 to 0-4 after 25 minutes.
But two Paul Shiels points and a Conor Carson goal cut the margin to only three by the break and Kevin Ryan's side dominated in the second period.
With the Saffrons helped by the breeze, they restricted Offaly to only three points in the second half, as they notched 10 scores at the other end.
Midfielder Shiels showed his importance to the Saffron cause as he contributed nine points - including four efforts from play.
The Dunloy man's has battled for fitness in recent seasons but his ability has never been in any doubt.
Offaly's first-half wind advantage meant Antrim's early gameplan had to revolve around staying in touch and the prospects didn't appear bright as the visitors moved into their 1-9 to 0-4 advantage.
However, then came the important five-minute period of the match before half-time as two Shiels scores were followed by Carson first-timing to the net with an impressive piece of ground hurling.
The goal cut Offaly's lead to 1-9 to 1-7 and while the Faithful County did nudge a further point up by the break, Antrim still looked in a good position.
To their credit, the Saffrons seized their opportunity as scores from Shiels [two], Neil McManus and PJ O'Connell helped them move into the lead.
A Joe Bergin point enabled Offaly to level again with 15 minutes remaining but the Shiels-inspired Saffrons hit five of the last six scores to earn a victory which was celebrated heartily by the players and home supporters in Ballycastle.
Offaly do have a further chance to avoid the drop as they will face the winners of the Division 2A final between Kerry and Carlow in a final relegation play-off.
WEEKEND FIXTURES
SATURDAY
Football League Division 1
Dublin 3-14 2-17 Mayo
Division 2
Meath 1-14 1-11 Down
Division 3
Cavan 0-14 1-08 Roscommon [Breffni Park]
SUNDAY
Football League Division 1
Cork 2-14 0-20 Tyrone
Derry 2-17 3-09 Kildare
Westmeath 0-13 2-15 Kerry
Division 2
Galway 2-14 1-13 Armagh
Monaghan 0-19 0-14 Laois
Donegal 1-19 3-07 Louth
Division 3
Offaly 1-12 1-13 Limerick
Sligo 0-15 2-08 Longford
Fermanagh 1-14 0-06 Wexford
Division 4
Antrim 3-15 1-10 London
Leitrim 0-16 5-16 Tipperary
Clare 3-21 2-10 Carlow
Wicklow 2-14 0-12 Waterford
HURLING LEAGUE
Division 1 quarter-finals
Laois 2-19 2-23 Clare
Wexford 2-16 4-22 Kilkenny
Limerick 1-12 1-20 Galway
Tipperary 3-25 4-19 Cork
Division 1A relegation play-off
Waterford 1-17 4-13 Dublin
Division 1B relegation play-off
Antrim 1-18 1-14 Offaly
Division 2B relegation play-off
Fingal 0-08 4-12 Armagh