Coma man Mark McGovern set for remarkable return to GAA action
Last updated on .From the section Gaelic Games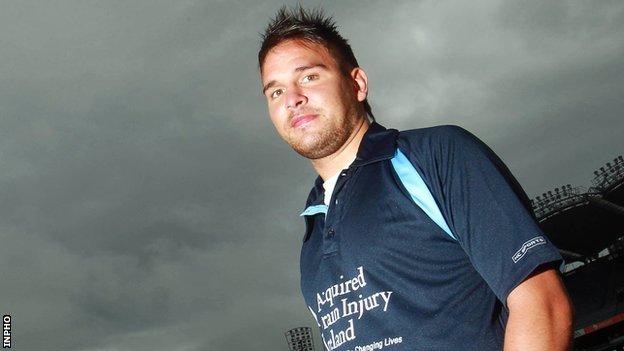 Mark McGovern, the Fermanagh gaelic footballer left in a coma following an off-the-ball incident at a game in the US, is set to resume playing the sport.
McGovern, 25, was an unused substitute for his club Belcoo in a game in county Fermanagh last weekend.
The Fermanagh man suffered a severe brain injury in a game in San Francisco in June 2011 and his recovery has been described as a miracle.
McGovern is hoping to make appearances for his club in the coming weeks.
I am only going to play 10, 15 minutes at a time," McGovern told the Belfast Telegraph.
"Even now I am so far behind. I would be wrecked at the pace of the game. The speed would be brutal for me to follow.
"I brought my gear and then I saw that there were not any great numbers there.
"So I asked the manager if it could happen, and I am there if they want to put me on.
"I know that I need to do some more training sessions to see if I am able to take a few hits."
The Fermanagh man had only been in the US city five days when he was injured in the game between the Ulster club and the San Francisco Celts.
He spent over a month in a coma at San Francisco General Hospital.
One of McGovern's doctors in San Francisco told McGovern that he had been "97.5% dead".
He had to learn how to walk and talk again, but after intensive therapy medical experts said his progress was remarkable.
Mr McGovern's parents and three sisters maintained a vigil at his hospital bedside during the five-week period he was in a coma.
Fundraising efforts helped the family to cope with Mark's medical and rehabilitation costs in the US, which exceeded $1m.
And he returned home to his native Fermanagh five months after the San Francisco assault.