Football League Division Four: Antrim 3-15 1-10 London
Last updated on .From the section Gaelic Games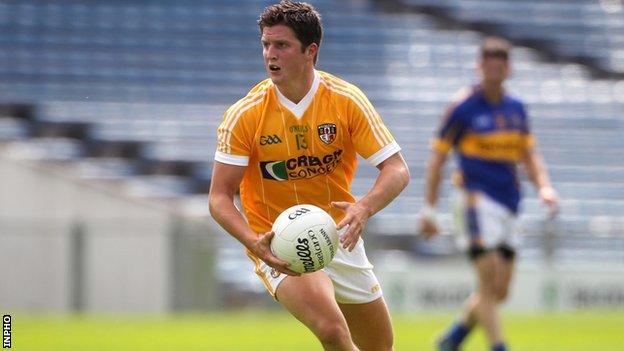 Antrim recovered from an early deficit to run out comfortable 11-point winners over London in the Football League Division Four encounter at Creggan.
London scored the first three points of the game, with Brian Neeson getting Antrim's first score from a free in the 14th minute.
A Tomas McCann goal helped the Saffrons to a narrow 1-5 to 0-7 half-time lead.
Two further goals followed in the second half and Liam Bradley's side now move above London in the table.
Antrim have won just two of their six matches to date and their hopes of promotion to Division Three had already ended.
Bradley made five changes to his team for the game and was missing Kevin Niblock through injury.
Antrim: R Hanna; K O'Boyle, R Johnston, N Delargy; T Scullion, M Johnston, J Crozier; N McKeever, S McVeigh; C Murray, M Sweeney, P McBride; B Neeson, M McCann, M Pollock.
WEEKEND RESULTS
SATURDAY
Football League Division 1
Dublin 3-14 2-17 Mayo
Division 2
Meath 1-14 1-11 Down
Division 3
Cavan 0-14 1-08 Roscommon [Breffni Park]
SUNDAY
Football League Division 1
Cork 2-14 0-20 Tyrone
Derry 2-17 3-09 Kildare
Westmeath 0-13 2-15 Kerry
Division 2
Galway 2-14 1-13 Armagh
Monaghan 0-19 0-14 Laois
Donegal 1-19 3-07 Louth
Division 3
Offaly 1-12 1-13 Limerick
Sligo 0-15 2-08 Longford
Fermanagh 1-14 0-06 Wexford
Division 4
Antrim 3-15 1-10 London
Leitrim 0-16 5-16 Tipperary
Clare 3-21 2-10 Carlow
Wicklow 2-14 0-12 Waterford
HURLING LEAGUE
Division 1 quarter-finals
Laois 2-19 2-23 Clare
Wexford 2-16 4-22 Kilkenny
Limerick 1-12 1-20 Galway
Tipperary 3-25 4-19 Cork
Division 1A relegation play-off
Waterford 1-17 4-13 Dublin
Division 1B relegation play-off
Antrim 1-18 1-14 Offaly
Division 2B relegation play-off
Fingal 0-08 4-12 Armagh