Football League Division 2: Donegal 1-19 3-07 Louth
Last updated on .From the section Gaelic Games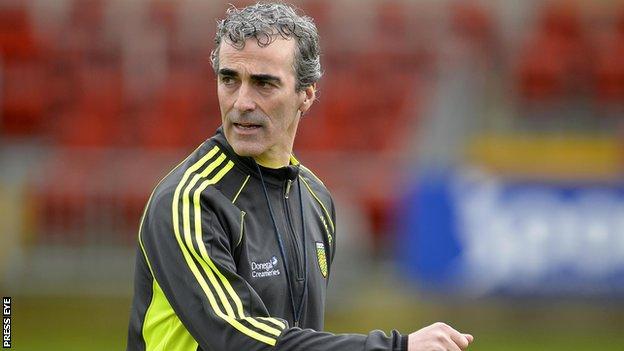 Donegal remain on course for a return to Division 1 of the Football League after this win over relegated Louth.
The 2012 All-Ireland champions totally dominated the first half as they hit 10 unanswered points to lead 0-12 to 0-1.
Paddy Keenan's goal cut Donegal's lead to nine by half-time and the lead remained 10 with 18 minutes remaining.
Two goals in a minute from Keenan and Brian White reduced Donegal's lead to three before David Walsh's three-pointer eased the home side's nerves.
Louth needed to win at Ballyshannon to have any chance of avoiding the drop and they are now guaranteed to go down even though they still have to face Meath next weekend.
A draw at the Athletic Grounds against Armagh will be enough to guarantee Jim McGuinness's side promotion and depending on other results, even a defeat may not prevent Donegal from remaining in the top two in the Division.
The scores were well spread in the Donegal ranks in the first half with Declan Walsh, Christy Toye, Rory Kavanagh, Dermot Molloy and Anthony Thompson all on target in addition to regular main scorers Colm McFadden and Michael Murphy.
A big Donegal win seemed on the cards when Toye, McFadden and Murphy slotted further points after the restart but Louth's direct tactics caused the home defence severe trouble in the final quarter.
Keenan's superb second goal was followed by White's three-pointer as suddenly there was only the kick of the ball between the sides but David Walsh's goal then ended any prospect of the most unlikely of comebacks.
The reverse was Louth's fourth defeat in six games as they remain on two points in the division after their draws against Armagh and Galway.
WEEKEND RESULTS
SATURDAY
Football League Division 1
Dublin 3-14 2-17 Mayo
Division 2
Meath 1-14 1-11 Down
Division 3
Cavan 0-14 1-08 Roscommon [Breffni Park]
SUNDAY
Football League Division 1
Cork 2-14 0-20 Tyrone
Derry 2-17 3-09 Kildare
Westmeath 0-13 2-15 Kerry
Division 2
Galway 2-14 1-13 Armagh
Monaghan 0-19 0-14 Laois
Donegal 1-19 3-07 Louth
Division 3
Offaly 1-12 1-13 Limerick
Sligo 0-15 2-08 Longford
Fermanagh 1-14 0-06 Wexford
Division 4
Antrim 3-15 1-10 London
Leitrim 0-16 5-16 Tipperary
Clare 3-21 2-10 Carlow
Wicklow 2-14 0-12 Waterford
HURLING LEAGUE
Division 1 quarter-finals
Laois 2-19 2-23 Clare
Wexford 2-16 4-22 Kilkenny
Limerick 1-12 1-20 Galway
Tipperary 3-25 4-19 Cork
Division 1A relegation play-off
Waterford 1-17 4-13 Dublin
Division 1B relegation play-off
Antrim 1-18 1-14 Offaly
Division 2B relegation play-off
Fingal 0-08 4-12 Armagh