Football League Division Two: Galway 2-14 1-13 Armagh
Last updated on .From the section Gaelic Games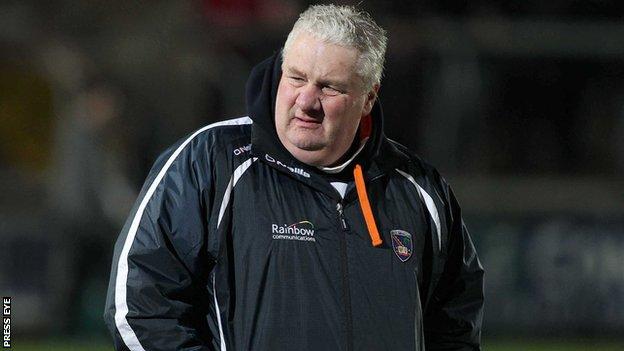 Armagh will head into their final Football League Division 2 game against Donegal next week in danger of relegation after this defeat by Galway.
Paul Grimley's side were in trouble after Eddie Hoare and Michael Martin hit goals in the opening four minutes.
After trailing by five at the interval, Tony Kernan's goal helped Armagh level with 10 minutes to go even though Gary McCooey had been sent off.
However, Galway regrouped to win by four to ease their relegation worries.
Aaron Kernan did make his return to Armagh colours after a lengthy injury absence as he came on in the second half but it was another day of frustration for the Orchard men in an inconsistent league campaign.
Armagh were on the back foot almost immediately as Hoare's third-minute goal, set up by Gareth Bradshaw, was followed 60 seconds later by Martin rattling the net.
The centre of the Armagh defence was looking extremely porous early on and Grimley took quick action by replacing Martin Shields, Phelim O'Neill and Michael Murphy before half-time.
Grimley's central defence did have something of an untried look with fit-again Kieran Toner starting at full-back and Aaron Findon, switched from centre-field to the number six jersey.
Two Eugene McVerry points and a Rory Grugan score cut Galway's lead to 2-3 to 0-6 but three Sean Armstrong points helped the home side stretch their advantage to 2-8 to 0-9 by the interval.
Armagh's hopes looked over when they were reduced to 14 players early in the second half when McCoeey was sent off after his initial yellow card was followed by a black card.
But to their credit, Armagh fought back and Tony Kernan's goal cut Galway's lead to two points with 17 minutes remaining.
The force appeared to be with Armagh as they drew level with 10 minutes left helped by scores from Aaron Kernan, Kevin Dyas and Finian Moriarty.
However, Galway found resolve to regroup in the closing stages as points from former Kildare player James Kavanagh, Paul Conroy [two], Mike Farragher and Tom Flynn helped them take the victory.
The defeat moves Galway alongside Armagh on five points and while both sides are currently outside the relegation positions, a Laois win over Down next weekend will leave the Tribesmen and Armagh needing wins to avoid the drop.
WEEKEND RESULTS
SATURDAY
Football League Division 1
Dublin 3-14 2-17 Mayo
Division 2
Meath 1-14 1-11 Down
Division 3
Cavan 0-14 1-08 Roscommon [Breffni Park]
SUNDAY
Football League Division 1
Cork 2-14 0-20 Tyrone
Derry 2-17 3-09 Kildare
Westmeath 0-13 2-15 Kerry
Division 2
Galway 2-14 1-13 Armagh
Monaghan 0-19 0-14 Laois
Donegal 1-19 3-07 Louth
Division 3
Offaly 1-12 1-13 Limerick
Sligo 0-15 2-08 Longford
Fermanagh 1-14 0-06 Wexford
Division 4
Antrim 3-15 1-10 London
Leitrim 0-16 5-16 Tipperary
Clare 3-21 2-10 Carlow
Wicklow 2-14 0-12 Waterford
HURLING LEAGUE
Division 1 quarter-finals
Laois 2-19 2-23 Clare
Wexford 2-16 4-22 Kilkenny
Limerick 1-12 1-20 Galway
Tipperary 3-25 4-19 Cork
Division 1A relegation play-off
Waterford 1-17 4-13 Dublin
Division 1B relegation play-off
Antrim 1-18 1-14 Offaly
Division 2B relegation play-off
Fingal 0-08 4-12 Armagh