Football League Division One: Derry 2-17 3-09 Kildare
Last updated on .From the section Gaelic Games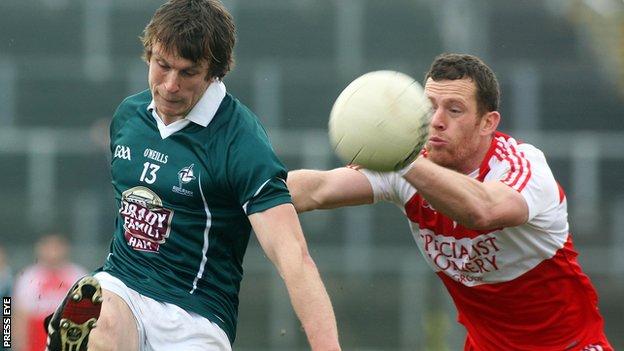 Derry clinched a place in the Football League Division One semi-finals as they earned a fully-deserved win over Kildare which relegated the Lilywhites.
Cailean O'Boyle's goal helped Derry lead 1-2 to 0-0 and while Keith Cribbin replied with a Kildare goal, the Oak Leafers led 1-7 to 1-3 at the break.
Mark Lynch's goal early in the second half emphasised Derry's superiority.
Derry extended their lead to 2-17 to 1-9 and late goals from Eamonn Callaghan and Tommy Moolick flattered Kildare.
Only two brilliant saves by Kildare keeper Shane Connolly had prevented a totally dominant Derry from being out of sight by half-time at Celtic Park.
Derry dominated all sectors of field in the opening period against a lumbering Lilywhites outfit.
In addition to Connolly's two tremendous saves, Derry missed a series of good point-scoring chances which combined to somehow keep Kildare in the contest by the break.
With impressive pair Lynch and Benny Heron among the scorers, Derry pushed on their advantage to 2-14 to 1-5 as Kildare put up little third-quarter resistance.
With the game won, Derry took their foot off the gas in the closing 15 minutes as veteran substitute Johnny Doyle was among a series of unanswered Lilywhites points.
Kildare's second and third goals came in the final four minutes of action as Callaghan's three-pointer was followed by Mollick's goal in the final play of the game.
After hitting 1-8 against Dublin last time out, Lynch finished with a 1-6 tally in Sunday's contest.
The win means that irrespective of the result in their game in Mayo next weekend, Brian McIver's side are guaranteed a place in the Division 1 semi-finals.
WEEKEND RESULTS
SATURDAY
Football League Division One
Dublin 3-14 2-17 Mayo
Division Two
Meath 1-14 1-11 Down
Division Three
Cavan 0-14 1-08 Roscommon [Breffni Park]
SUNDAY
Football League Division One
Cork 2-14 0-20 Tyrone
Derry 2-17 3-09 Kildare
Westmeath 0-13 2-15 Kerry
Division Two
Galway 2-14 1-13 Armagh
Monaghan 0-19 0-14 Laois
Donegal 1-19 3-07 Louth
Division Three
Offaly 1-12 1-13 Limerick
Sligo 0-15 2-08 Longford
Fermanagh 1-14 0-06 Wexford
Division Four
Antrim 3-15 1-10 London
Leitrim 0-16 5-16 Tipperary
Clare 3-21 2-10 Carlow
Wicklow 2-14 0-12 Waterford
HURLING LEAGUE
Division 1 quarter-finals
Laois 2-19 2-23 Clare
Wexford 2-16 4-22 Kilkenny
Limerick 1-12 1-20 Galway
Tipperary 3-25 4-19 Cork
Division 1A relegation play-off
Waterford 1-17 4-13 Dublin
Division 1B relegation play-off
Antrim 1-18 1-14 Offaly
Division 2B relegation play-off
Fingal 0-08 4-12 Armagh