BBC Sport Northern Ireland secures new GAA deal
Last updated on .From the section Gaelic Games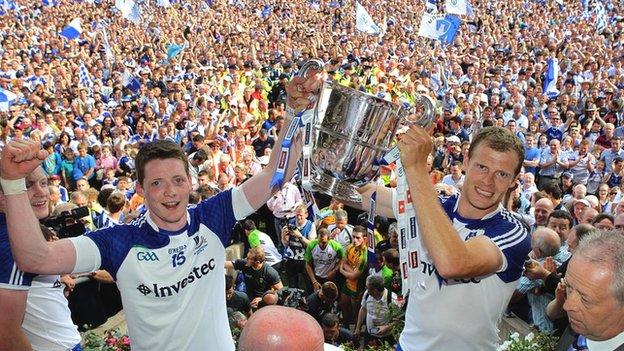 BBC Northern Ireland has secured a new deal for live television and radio coverage of the GAA Championship over the next three years.
While Croke Park's new arrangements will see Sky Sports showing live GAA games for the first time, BBC Northern Ireland will continue to broadcast a number of Ulster Championship matches.
The BBC will broadcast Ulster matches also being shown live on RTE.
The live BBC games will include the Ulster Football Final.
A new deal to bring listeners live coverage of Gaelic Games on BBC Radio Ulster throughout the year has also been agreed.
Shane Glynn, Editor of Sport at BBC Northern Ireland said he was "delighted" that the corporation had agreed a new deal with the GAA.
"Broadcast rights are highly competitive and complex, particularly in television," said the BBC NI Editor of Sport.
"While we would have liked to be able to provide more live coverage for our audience, we are pleased to have been able to secure live television coverage, within the constraints of what was available to us, of games in the Ulster Championship on BBC NI over the next three years.
"Our commitment to Gaelic Games on BBC Radio Ulster remains significant.
"It will include programming across the year, including live coverage of the Ulster Club and Ulster Senior Football Championships, and games in the National League, qualifiers and All-Ireland Championship involving Ulster counties."
The new deal comes into effect in May of this year with the start of the Ulster Championship.
Under the new arrangements, Sky Sports will have exclusive island of Ireland rights to 14 championship games while along with RTE, they will also have live coverage of the All-Ireland Hurling and Football semi-finals and finals.
RTE will have 31 live games which will include the All-Ireland senior finals and semi-finals in both codes.
Sky's 14 exclusive matches will consist of eight Saturday evening All-Ireland qualifiers, two All-Ireland Football quarter-finals, plus four provincial championship games.
These 20 live games will be available to its subscribers in Ireland and Britain.
A further departure will see Channel 7 will show all 45 live championship games free to air in Australia.
In a separate development, RTE and the GAA are to launch an online paid-for service offering Gaelic Games to audiences worldwide.
Under the new deal, TG4 will continue to broadcast Football and Hurling League matches and other underage matches, including the All-Ireland minor finals.
GAA president Liam O'Neill said that the new arrangements "represent an exciting development for the association".
"Making our games more widely available to Irish people abroad was a critical factor in our approach to these negotiations," said the GAA president.
"We are also glad that this brings the quality and excitement of our games to a wider international audience.
"Gaelic games are national games played in a small country, and which must compete for audience loyalty with the hugely powerful sporting and marketing resources of international sports.
"The GAA has to fight its corner, and must ensure that it maintains a strong presence across a range of media outlets."