McHugh says Sky deal shows Croke 'out of touch' with grassroots
Last updated on .From the section Gaelic Games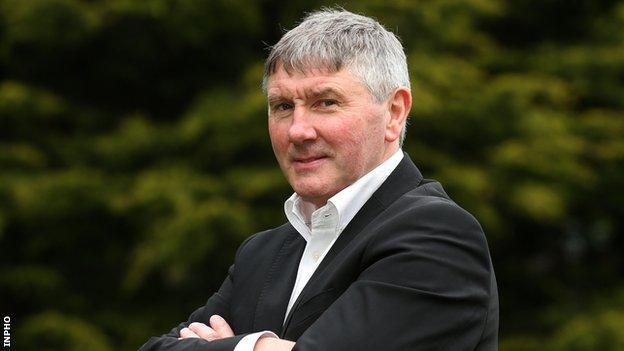 Martin McHugh says the GAA's decision to agree a deal for Sky TV to broadcast some live championship matches shows the association's top brass to be out of touch with the sport's grassroots.
McHugh, BBC GAA analyst, believes Croke Park's bosses are too focused on the association "making money".
"The association should be about the grassroots and it's the clubs that are keeping us going," said McHugh.
"Now they are going to have to pay to watch gaelic football on TV."
Under the new arrangements, Sky Sports will have exclusive island of Ireland rights to 14 championship games while along with RTE, they will also have live coverage of the All-Ireland Hurling and Football semi-finals and finals.
RTE will have 31 live games which will include the All-Ireland senior finals and semi-finals in both codes.
Sky's 14 exclusive matches will consist of eight Saturday evening All-Ireland qualifiers, two All-Ireland Football quarter-finals, plus four provincial championship games.
All Sky's live 20 games will be available to its subscribers in Ireland and Britain.
Under the new broadcasting deal, BBC Northern Ireland will continue to broadcast Ulster Championship matches, including the provincial football final, which are also being shown live on RTE.
While the GAA has strongly defended its landmark decision to agree a deal with Sky, McHugh remains unconvinced.
"The GAA is built on the club. The only way it can survive is to keep that very strong. It's all about the grassroots. The people who look after the underage teams and run the clubs and look after the pitches.
"Even at the minute, a lot of the club players are paying for lottery tickets to keep the clubs going and a lot of that money goes to the county teams.
"Now to turn round and say to them that they are going to have pay to watch gaelic on TV? I don't think that is going to work at all."
McHugh is also fearful that the Sky deal will lead to further calls for the GAA to go professional at the top end with county players being paid.
"The association cannot afford to pay players but with the GAA doing things like this, the players are going to say, 'Hold on a minute. We need a piece of this," said the former Donegal star.
"I have two sons [Mark and Ryan] playing with Donegal at the minute. You don't see them. If they are not in the gym, they are training.
"They cannot hold down a part-time job and they cannot do anything because of the commitment they have to football.
"What are players going to start saying [after the Sky deal]?"
GAA president Liam O'Neill insisted that the new broadcast arrangements "represent an exciting development for the association".
"Making our games more widely available to Irish people abroad was a critical factor in our approach to these negotiations," said the GAA president.
"We are also glad that this brings the quality and excitement of our games to a wider international audience.
"Gaelic games are national games played in a small country, and which must compete for audience loyalty with the hugely powerful sporting and marketing resources of international sports.
"The GAA has to fight its corner, and must ensure that it maintains a strong presence across a range of media outlets."