BBC's Ulster Championship coverage continues with Derry game
Last updated on .From the section Gaelic Games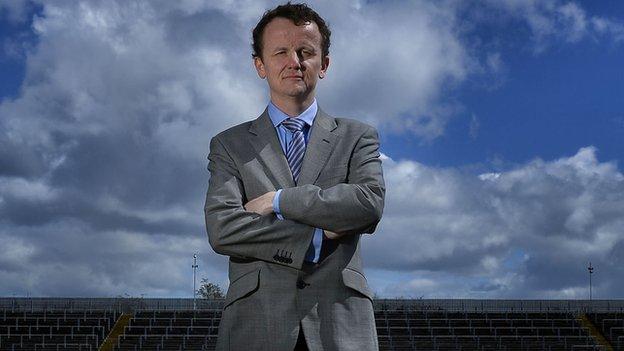 BBC NI's Ulster Championship coverage will continue on Sunday with live TV and radio broadcasts of the game between Derry and Donegal.
Austin O'Callaghan will present the TV coverage on BBC Two Northern Ireland throughout the Championship.
He will be joined in studio during by a host of former county stars including Martin McHugh and Oisin McConville.
Mark Sidebottom will be in the TV commentary box and former players will join sideline reporter Thomas Kane.
The remaining Ulster games which will be live on BBC Two Northern Ireland will be holders' Monaghan's game with either Tyrone or Down on 15 June, the opening semi-final on 22 June and the Ulster final on 20 July.
The programmes will reflect the views of the match day fans and those of the viewers at home via various social media networks.
In addition to the live television coverage, all this year's Ulster Football Championship games will be broadcast live on BBC Radio Ulster 1341 Medium Wave, with commentaries also on the BBC Sport website.
All matches involving Ulster counties in the All-Ireland series from the quarter-final matches will also be live on Radio Ulster with commentaries also on the BBC Sport website.
Adrian Logan will present the Radio Ulster coverage with Owen McConnon on match commentary.
Radio analysis will be provided by former Armagh and Ireland captain, Steven McDonnell, ex-Derry manager, Adrian McGuckin, 1994 Down All-Ireland winning captain DJ Kane and former Donegal star Brendan Devenney.
Listeners can contact the programme by texting their views to 81771.
Fans can also follow all the action on the dedicated Facebook and Twitter pages.
Log onto bbc.co.uk/sportni for more details.