Ulster Championship: Harte critical of new rules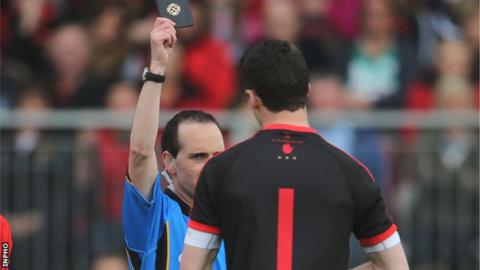 Tyrone boss Mickey Harte has criticised the implementation of new rules after the Ulster SFC draw with Down.
Reds Hands keeper Niall Morgan was black-carded but Down's Conor Maginn, who later scored a goal, escaped the same punishment for a similar offence.
"This thing called consistency is just not there," said Harte.
"I don't know what to expect now from a set of rules when I go out for a match - there were things going on which bore no resemblance to the league."
The black card, introduced this year to punish cynical play, results in a player being sent-off but unlike a red card he is replaced by a substitute.
Maginn hauled down Mark Donnelly, who still managed to score but instead of playing advantage and allowing the goal, referee David Coldrick awarded a penalty which was converted by Peter Harte.
Maginn escaped the black card unlike Morgan, who brought down Mourne substitute Jerome Johnston as he went through on goal.
"People talk about an advantage rule, but there were no signs of it there at all," added Harte.
"Yet we had lots of signs of it, under various guises, throughout the league."
Tyrone led 1-5 to 0-3 at the break but Down fought back to lead before two injury-time frees from Sean Cavanagh earned Harte's team a replay.
"When we scored our second goal I thought we were on the home straight," said Harte.
"I couldn't see the nine unanswered points from Down coming and they put us on the back foot.
"It's not good for us to be seven ahead and lose it as much as that and we're very lucky to be still in the game."
Down captain Kevin McKernan is looking forward to next Saturday's replay at Pairc Esler in Newry.
"We never got out of the blocks in the first half but we had a period of domination in the second half and the goals got us back into it," he said.
"Newry has been a happy hunting ground for us in the recent years.
"We need to use it to our advantage and hopefully a bumper crowd will be there to cheer us on."