Dunne sustained suspected wrist and hand fractures in brawl
Last updated on .From the section Gaelic Games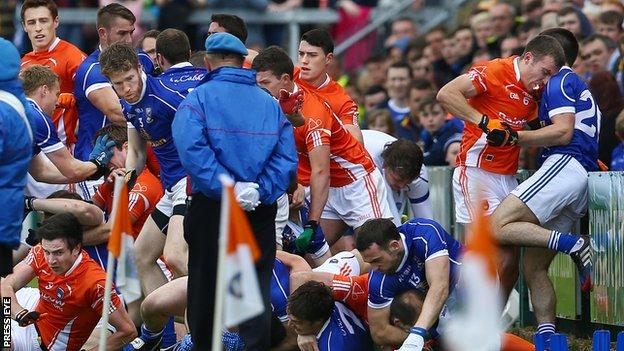 Cavan's Martin Dunne suffered suspected multiple hand and wrist fractures in the pre-match brawl which marred the Ulster SFC game against Armagh.
The forward was unable to play in the game because of the injury and could now be ruled out for several weeks.
Dunne underwent a scan in Dublin on Tuesday but a definitive verdict on his injury has yet to be established.
Meanwhile, penalties arising from Sunday's brawl could be handed out before the end of this week.
The GAA's Central Competitions Control Committee has been deliberating on the scenes which led to negative headlines for the association.
The footage which so far has been broadcast mainly shows players wrestling with each other although it is believed that a number of punches were thrown before the TV cameras managed to record the fighting.
It remains to be seen whether the GAA's disciplinary authorities have access to any more broadcast footage.
There is a belief that GAA bosses do not want to prolong this issue any longer than necessary so hence, the apparent likelihood that penalties could be handed out before the end of this week.
In addition to suspensions which are likely to be imposed, both counties are also facing fines.
Cavan were fined around £4,000 arising from incidents at last year's All-Ireland Qualifier win over Fermanagh and it remains to be seen whether this previous bad behaviour will form part of any possible financial penalties handed out to them following Sunday's disturbances.
However, given that the GAA's disciplinary processes have not proved watertight on many previous occasions, lengthy appeals against any suspensions are highly likely.
On Monday, GAA president Liam O'Neill said that the ugly clashes had been "worrying".
"Anything that damages our image is of concern to us and we will take this seriously," he said.
"We must try to make sure it does not happen again this summer.
"We would like managers to take responsibility for their teams and line them up in an orderly manner, go and do the parade and then play the game.
"Unfortunately, that did not happen yesterday."
The pre-match trouble at Armagh's Athletic Grounds came after players disagreed over the positioning of the counties' flags for the traditional parade around the ground.
It took about two minutes for order to be restored and young band members had to be shepherded to safety as fists flew.
Afterwards, Armagh manager Paul Grimley attempted to play down the incident, describing it as a 'wee tiff'.
"From what I saw, there were 30 players involved. Are they going to suspend them all?" he said.
The referee Marty Duffy did not take any action against any players at the time.
Armagh won the match 1-12 to 0-9 and will play Monaghan or Tyrone in the semi-finals of the Ulster Championship.