All-Ireland Football Qualifiers: Laois 1-19 2-15 Fermanagh
Last updated on .From the section Gaelic Games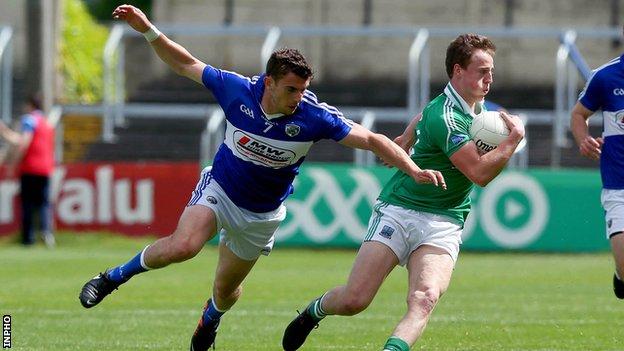 Laois edged past a brave Fermanagh side in a thrilling All-Ireland Football qualifier as Sean Quigley ended up on the losing side despite scoring 2-8.
The home side moved 0-5 to 0-2 ahead but Quigley's scrambled goal helped Fermanagh take a 1-6 to 0-6 lead.
Laois fought back to level by half-time and after Fermanagh moved two up again, Billy Sheehan's goal helped the home side move 1-16 to 1-12 ahead.
Quigley's penalty cut Laois's lead to a point but the home side held on.
In addition to Quigley, Ruairi Corrigan starred for an energetic Fermanagh side who produced a vastly improved display from their disappointing Ulster SFC defeat by Antrim.
Laois moved into a 0-5 to 0-2 lead by the 20th minute despite missing a series a good scoring chances, including a Ross Munnelly goal opportunity which was brilliantly blocked by the impressive Martin O'Brien.
However, Fermanagh responded with three unanswered points to level which included a Barry Owens score when a goal looked on.
But the Erne men did rattle the net on 29 minutes to move into a 1-6 to 0-6 lead as Quigley appeared to get the final touch after a long ball from Tommy McElroy had caused consternation in the Laois defence.
Crucially, Laois did respond with three straight points to level by the break although Fermanagh still could look forward to having the wind advantage in the second period.
With Ryan Jones, Ryan McCluskey and Eoin Donnelly starring in the middle third of the field, Fermanagh outscored Laois 0-4 to 0-2 to take a 1-10 to 0-11 lead by the 45th minute.
However, Laois were back in front a minute later as Sheehan stabbed the ball into the empty net after the Fermanagh defence had failed to deal with a mishit long ball from Colm Begley.
While Quigley did quickly level for Fermanagh, Laois then produced a crucial eight minutes of domination to strike four unanswered points as they finally began to find the running game that they had shown for long periods of their defeat by Dublin.
But Fermanagh were suddenly back in the game on 62 minutes as Quigley coolly slotted his penalty to leave the minimum between the teams after Laois keeper Brody had hauled down Erne substitute Brian Cox.
However, Laois hit three of the next four scores to move three ahead with a minute of normal time left.
But Fermanagh weren't finished and Laois were left hanging on as Eamon Maguire and Niall Cassidy struck points in the three minutes of injury-time.
Cassidy, perhaps, could have kept the ball alive as he kicked his effort over the bar when the Laois defence appeared stretched in the second minute of injury-time.
There was still time for a final play but Laois, much to their relief, held on.
Laois: G Brody; P McMahon, D Booth, P O'Leary; D Strong, Paul Begley, C Begley; C Meredith, J O'Loughlin; J Finn, B Sheehan, N Donoher; R Munnelly, D Kingston, D Conway.
Fermanagh: C Snow, M O'Brien, B Mulrone, M Cassidy, D McCusker, R McCluskey, T McElroy, E Donnelly (capt), R O'Callaghan, L Cullen, R Jones, P McCusker, R Corrigan, S Quigley, B Owens.