Ulster SFC Final: Kavanagh starts for Donegal but Lacey on bench
Last updated on .From the section Gaelic Games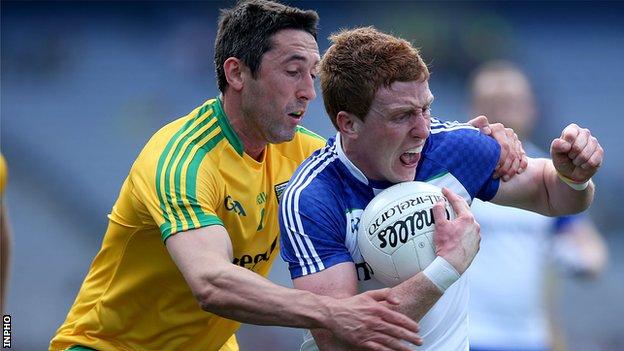 Donegal manager Jim McGuinness has recalled Rory Kavanagh for Sunday's Ulster Football Final against Monaghan while Martin McElhinney has also been named in the team.
Kavanagh replaces Darach O'Connor in the half-forward line with McElhinney in for midfielder Neil Gallagher.
McElhinney is named at centre-field alongside Christy Toye but there is no starting place for Karl Lacey.
Monaghan forwards Kieran Hughes and Dermot Malone have been passed fit.
The pair were both considered fitness doubts for the provincial decider but have been selected by Malachy O'Rourke.
Hughes has done little training since the semi-final replay win over Armagh because of a lingering knee injury.
In addition, fears that Malone sustained a wrist injury in the victory over Armagh have proved unfounded but Owen Lennon will play no part in the final because of an ankle injury.
However, the Donegal selection has more talking points with O'Connor left out despite scoring 1-2 in his impressive overall display in the semi-final win over Antrim.
McElhinney replaced Neil Gallagher late in the first half of that game and is retained in the starting line-up.
Odhran MacNiallais was a late inclusion in a rejigged Donegal line-up against the Saffrons after Lacey was ruled out and the youngster retains his starting role, with the 2012 Footballer of the Year named on the bench.
At Tuesday's media briefing at Clones, Monaghan boss O'Rourke spoke of his belief that revenge will be very much on Donegal's minds after their surprise defeat by the Farney County in last year's Ulster Final - and indeed the Division 2 League decider in April.
However, Donegal selector Diver responded by insisting that the 'r word' hasn't come up at all in any discussions between the management and players in the build-up to Sunday's game.
"I never heard it mentioned yet anyway," said Diver.
"Our boys are really treating it like any game in Ulster. It is an Ulster Final but if they go out and perform like they have so far [in the championship], they have a chance.
"It's all about getting every player, young and old, to step up to the [necessary] level."
However, O'Rourke, not a man renowned for being overly expansive in interviews, made a couple of references to the "hurt" that, he believes, Donegal will still be facing from last year in particular.
"They want to redress the balance from last year so we know it is going to be a severe challenge for us.
"But we've prepared well and we hope we'll acquit ourselves well on the day."
Interestingly, O'Rourke also opted to wander into the territory of the controversy that followed allegations that his team had been over-physical in last year's decider.
The main manifestation of Donegal anger after last year's provincial final was the injury sustained by Mark McHugh after a robust challenge by Monaghan's Stephen Gollogly early in the game.
The Monaghan player was not penalised for the tackle which led to the Donegal forward having to be replaced but McGuinness made clear a week later that he had been very unhappy with Gollogly's challenge.
However, O'Rourke used Tuesday's opportunity to reject the suggestion that his players use an "over-physical approach".
"If you look at us, we're a fairly small team overall and we wouldn't bring a physical edge.
"We bring a high work-rate and intensity, and we'd like to bring a physical edge that way, but we would feel in no way, shape or form would we be dirty or playing the edge or anything like that.
"It's all about going out and getting that work-rate, that intensity again and being ready for a big challenge."
Monaghan: R Beggan, R Wylie, D Wylie, C Walshe, D Mone, V Corey, F Kelly, D Clerkin, D Hughes, P McKenna, S Gollogly, P Finlay, D Malone, K Hughes, C McManus.
Donegal: P Durcan; E McGee, N McGee, R McHugh; A Thompson, F McGlynn, P McGrath; M McElhinney, C Toye; R Kavanagh, L McLoone, O MacNiallais; P McBrearty, M Murphy, C McFadden. Subs: M Boyle, D O'Connor, David Walsh, Declan Walsh, D Molloy, H McFadden, K Lacey, L Thompson, L Keaney, M O'Reilly, N Gallagher.
WEEKEND FIXTURES
SATURDAY
All-Ireland SFC qualifiers
Roscommon 1-12 1-17 Armagh
Clare 0-12 0-13 Kildare
All-Ireland Hurling Qualifier
Waterford 2-15 3-15 Wexford
SUNDAY
Ulster MFC Final
Armagh v Donegal [Clones, 14:00]
Ulster SFC Final
Monaghan v Donegal [Clones, 16:00]
Leinster SFC
Dublin v Meath [Croke Park, 14:00]