Jim McGuinness says Donegal 'weren't going to be beaten'
Last updated on .From the section Gaelic Games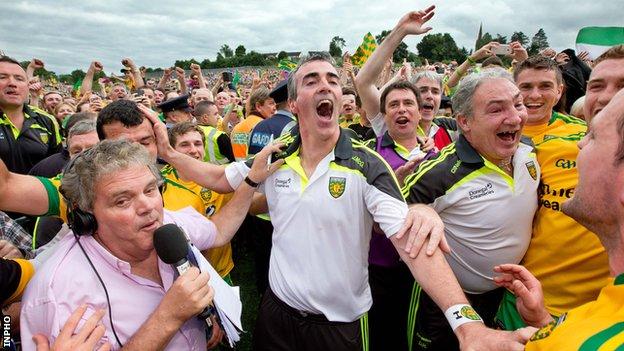 Donegal manager Jim McGuinness said his players "unbelievable commitment" spurred them to victory in the Ulster Football final over holders Monaghan.
"It was a game to win today," said the Donegal boss.
"They weren't going to come off that field beaten. That was the key thing for us."
McGuinness's joy after the final whistle was there for all to see as he bounded on to the pitch to embrace each and every one of his players.
The Glenties man described his men "as an absolute privilege to work with".
"I am just so proud of them. They are immense to work with. Their focus is unbelievable. Their energy, their work-rate and their commitment to Donegal."
McGuinness said that selfless attitude of his players was emphasised by Patrick McBrearty's response to being left out of the starting line-up as he was replaced by another youngster Darach O'Connor.
"We were warming up before the game and Patrick was the one in talking to Jigger [O'Connor] telling him to 'keep it going, big start'.
"As a manager, that is what you want."
McBrearty was introduced for O'Connor after 26 minutes of the first half and went on to hit three points as he made a major impact on the contest.
Monaghan manager Malachy O'Rourke acknowledged that his team had played "second fiddle" for most of the game.
"Donegal got a lot of control. When we went forward with the ball, we didn't do what we had planned," said a rueful O'Rourke.
"We kicked the ball in when we shouldn't have been kicking the ball in.
"We made mistakes. We let Donegal catch us on the counter-attack so a lot of things that worked last year [in the Ulster Final] didn't work as well today.
"Fair play to Donegal. They were the better team on the day."
The Monaghan boss felt his team had been a given a lifeline when substitute Christopher McGuinness's goal left only a point between the teams with 20 minutes left but "Donegal got a couple of points to give them that wee bit of breathing space".
"The way Donegal set up, it's very difficult to break them down.
"Your handling and passing has to be very good and we were a wee bit off today."
The defeat means Monaghan will take on Kildare on the weekend of 2/4 August and O'Rourke said that he had "no doubt" that his players could regroup for the last-12 clash with the Lilywhites.