Jim McGuinness says club series delay key to Donegal recovery
Last updated on .From the section Gaelic Games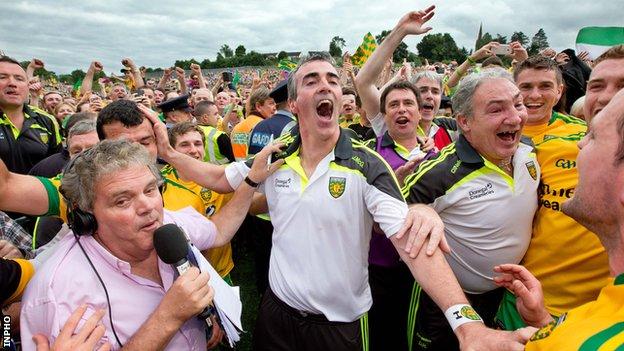 All-Ireland quarter-final: Armagh v Donegal
Date:
Saturday, 9 August, throw-in at 16:00 BST
Venue:
Croke Park, Dublin
Coverage:
Live commentary on Radio Ulster medium wave and the BBC Sport website
Donegal manager Jim McGuinness says putting the county's club championship on hold this year has been a vital factor in his team's return to form.
McGuinness insists that the staging of last year's Donegal Championship was a major hindrance for his squad.
"We lost the players for four weeks in the middle of the Ulster Championship," McGuinness told BBC Sport NI.
"To have your players available every night is a big advantage and on top of that, having them fit and healthy."
Club championships being put on hold in some counties has become a thorny issue for the GAA and the Football Review Committee has recommended that more games should be played between April and August.
After their All-Ireland quarter-final hammering by Mayo last August, the Donegal GAA board, after holding discussions with McGuinness, agreed that this year's club championship would not begin until after the county's exit from the All-Ireland Football Championship.
McGuinness clearly feels that decision has played a major role in Donegal's re-emergence this year, with the squad's lack of injuries and the new blood in the panel also vital ingredients, according to the manager.
LAST FOUR DONEGAL V ARMAGH CHAMPIONSHIP MEETINGS
2010:
Armagh 2-14 0-11 Donegal - All-Ireland qualifier
2007:
Donegal 1-9 1-8 Armagh - Ulster quarter-final
2006:
Armagh 1-9 0-9 Donegal - Ulster final
2005:
Armagh 3-11 1-10 Donegal - Ulster semi-final replay
"Our preparation this year is in stark contrast to last year.
"The participation rate at training this year is 93% where as it was down at about 40% last year. That has made a huge difference to the squad.
"Also the younger players have added a new dimension to the team.
"Then you have players such as David Walsh, Karl Lacey, Neil Gallagher and Christy Toye who had major injures last year coming back into the equation.
"We weren't happy with the circumstances around the team last year and didn't feel we got the best opportunity to prepare the team properly.
"That was compounded by the nine injuries that we picked up in the club championship in the middle of the Ulster Championship.
"If you don't feel you have prepared properly and you are carrying a lot of knocks on top of that, you can't be confident going into Croke Park."
Thus McGuinness believes, the hammering by Mayo can be explained.
As evidenced by McGuinness's joyous reaction to his team's Ulster Final win over Monaghan, the manager says that his players were feeling a lot of hurt after their sorry 2013 campaign.
"A lot of people wrote them off in no uncertain terms after the Mayo game last year so it was nice to come back on the back of that.
"We got our heads down early in the year and worked hard.
"I think we earned the Ulster Championship over the course of the winter because of our attitude and our focus."
But while McGuinness has been delighted with his team's performances so far in the championship, he is expecting the toughest challenge of the summer to date in Saturday's game against a rejuvenated Armagh.
McGuinness attended all of last weekend's four championship games in Croke Park and came away thinking that Paul Grimley's men had been as impressive as any of the eight teams on show in their victory over Meath.
"Eighteen points on a very bad night for football - 16 of them from play - was very, very impressive.
"They seemed to be galvanised and there is a lot of controversy in terms of the media ban but they seem very together as a unit.
"It's going to be a very big challenge for us. They are coming into the game on the back of some very, very good performances.
"They have created a very good defensive system that can control many aspects of a game.
"And I felt of the teams last weekend, Armagh's ability to tackle was the best of the lot.
"However, they are still keeping three and four players up the field which presents challenges.
"When they do turn the all over, they make the transition [from defence to attack] very quickly.
"They also like to get the all into the full-forward line early and they have two young excellent midfielders [Stephen Harold and Aaron Findon] who are athletic and can get up and down the field.
"And they have players like Aaron Kernan and Jamie Clarke as well, so they have a lot of quality."