All-Ireland SFC final: Donegal power can wear down Kerry
Last updated on .From the section Gaelic Games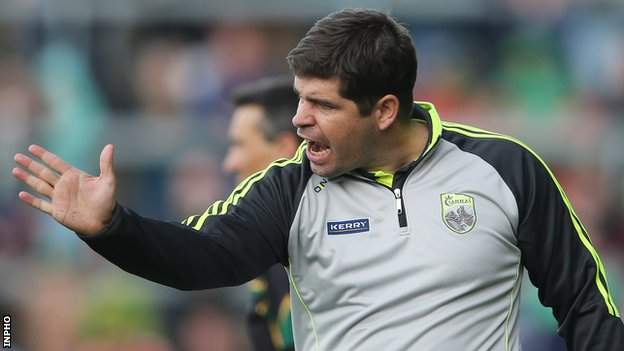 All-Ireland Football Final: Donegal v Kerry
Date:
Sunday, 21 September, throw-in at 15:30 BST
Venue:
Croke Park, Dublin
Coverage:
Live commentary on Radio Ulster medium wave and the BBC Sport website
Those hoping for a repeat of the semi-finals scoring fests in Sunday's All-Ireland Football Final between Donegal and Kerry may end up disappointed.
Dublin's attempt to blow Donegal away with a display of attacking football three weeks ago failed spectacularly - despite a promising beginning.
Kerry boss Eamonn Fitzmaurice will surely employ a more cautious approach.
He will want to avoid a repeat of the gaping hole in the centre of the Dublin defence which Donegal exploited.
With Dublin going gung-ho, there was no-one at home on several occasions in their defence when the likes of Ryan McHugh, Anthony Thompson and Frank McGlynn broke at pace after turnovers in the semi-final.
Donegal's decision not to employ an orthodox centre half-forward contributed to the space down the middle of Dublin's offence and amazingly was not spotted by the holders's management until it was too late.
Fitzmaurice will surely have spent many hours studying the video of that match.
Time was, Kerry would have refused to deviate from their football principles but Jack O'Connor showed that the Kingdom could grasp the pragmatism nettle when it came to securing All-Ireland titles.
Fitzmaurice, by all accounts a very clever operator, will surely adopt a similar approach so he will have been working just as hard on his 'masterplan' as the much-vaunted tactical genius Jim McGuinness.
That's not to say that Kerry defenders won't bomb forward - and in numbers - on occasions but a couple of caretakers will surely remain at the back in the expectation of the lightning Donegal attack.
Kerry half-forwards, the recalled Stephen O'Brien, Donnacha Walsh, Johnny Buckley will surely face the most draining of afternoons as they will be expected to somehow curb the attacking instincts of the Donegal half-backs.
To perhaps an even greatest extent than normally is the case, the midfield battle will be fascinating with the likely match-up between Neil Gallagher and in-form David Moran possibly one of the key duels of the afternoon.
If neither Gallagher nor Moran can gain an edge, it could leave the stage open to Odhran MacNiallais to set the seal on his outstanding debut season by producing a big centrefield performance.
And the intriguing tussles don't end there as you have the two McGee brothers in the Donegal defence attempting to subdue Kerry's two key forwards Kieran Donaghy and James O'Donoghue.
Eamon McGee effectively shackled Donaghy in the 2012 All-Ireland quarter-final and may be tasked with the same role again with his brother Neil matching up against O'Donoghue.
There has also been a whisper that Paddy McGrath could be handed one of those key marking jobs even though the combative McGees appear the obvious candidates for those big jobs.
At the other end of the field, Aidan O'Mahony is being tipped to mark Michael Murphy although that may not come to pass early on if the Donegal skipper is switched to midfield.
Assessing the remaining battles between the Donegal attack and Kingdom defence is difficult given the uncertainty over the composition of the Ulster champions's attack.
Will Patrick McBrearty be in from the start or instead utilised as an impact sub in the second half?
Christy Toye looks a strong candidate to start after coming on for David Walsh late in the first half against the Dubs but guessing McGuinness's team selection is never easy.
McGuinness may feel that Darach O'Connor's speed could cause damage in the Kerry defence while the Donegal boss is prone to pulling a selection rabbit out of the hat so a Martin McElhinney or a Martin O'Reilly could be pitched in from the start.
Probably unlikely but don't rule it completely out.
Most bookies appear to be siding with Donegal although they are inevitably wary of backing against a county that has won an astonishing 36 titles.
But while Kerry surely won't be as naive as Dublin were, there is that suspicion that Donegal's well-honed system will win the day.