Donegal boss McGuinness refuses to blame Durcan after defeat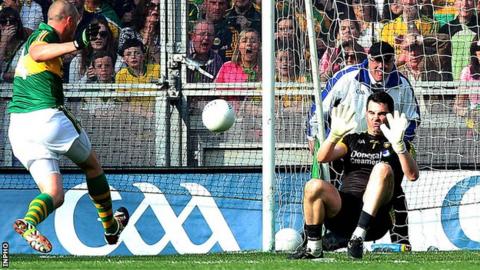 Donegal manager Jim McGuinness refused to blame keeper Paul Durcan for the defeat to Kerry in Sunday's All-Ireland football final at Croke Park.
A disastrous blunder by Durcan gifted a decisive goal to Kieran Donaghy whose Kerry side won by three points.
"I would not go down the road of talking about individual errors. Collectively, we just were not good enough ," said McGuinness.
"We did not deliver what we are capable of delivering, that is the hard thing."
McGuinness admitted Donegal did not reach the heights of their tremendous against-the-odds semi-final win over holders Dublin.
"In comparison to our performances throughout the year, we were flat.
"The energy and the work rate were not there and we did not get a lot of turnovers.
"We did not get up the field aggressively enough and we did not ask enough questions of Kerry.
"We reacted positively to the goals but why could we not do that throughout the match?
"It is a difficult one because we know what we are capable of and we did not perform to that level.
"I haven't really got the answers. We will reflect on it."
McGuinness added that he would take time to consider whether to stay on for a fifth year in charge of Donegal.
"We go through the same process at the end of each year," he said.
"If I feel the hunger and desire are there, we will make that decision. If not, we will take a different decision.
"It will probably be the same for the players as well. Immediately after a game is not the time to be making decisions."