Martin Clarke reveals that illness hindered his 2014 AFL season
Last updated on .From the section Gaelic Games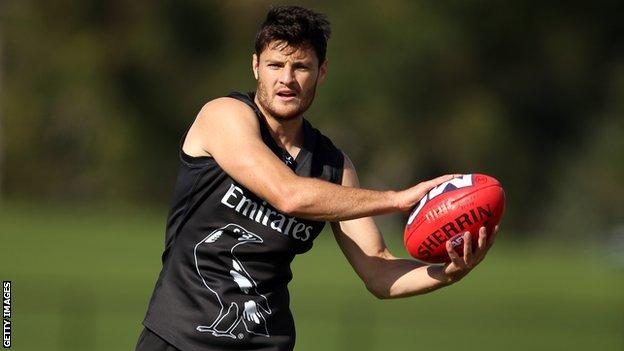 Martin Clarke has revealed that a rare illness affected his 2014 Australian Rules season with Collingwood.
Speaking at Collingwood's annual club awards on Thursday, Clarke said that he has been suffering from Addison's Disease this year.
The disorder of the adrenal glands can lead to flu-like symptoms but can be effectively controlled by treatment.
Most people with the condition are able to live a normal, healthy life when they get the correct treatment.
Addison's Disease affects the production of essential hormones glucocorticoids and mineralocorticoids.
Early stages symptoms of Addison's disease are similar to other more common health conditions such as flu or depression.
Symptoms can include muscle weakness, loss of appetite and unintentional weight loss and increased thirst.
Clarke's health problems may explain why he has yet to commit to rejoining the Down football squad after his return to Ireland.
The Kilkeel man made a big impact when he last quit Aussies Rules football for gaelic football, playing a key role in Down reaching the All-Ireland final in 2010, as he was named in that year's All Star team.
He played 46 games in three years at Collingwood before quitting at the end of the 2009 season, spending two years with Down before resuming his AFL career with the Magpies in 2012.
In addition to his illness, Clarke was also bothered by injury this year which left him unable to secure a regular first-team place.
There is speculation he will play Sigerson Cup football for Jordanstown next year as he is keen to begin a degree in teaching.