Armagh's Aaron Kernan retires from inter-county football
Last updated on .From the section Gaelic Games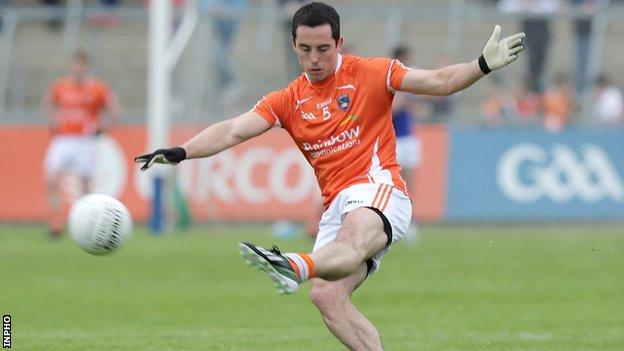 Armagh star Aaron Kernan has retired from inter-county football after a decade playing for the Orchard team.
The Crossmaglen clubman won the All Stars Young Footballer of the Year in 2005 and helped Armagh to four Ulster SFC titles and a Division One success.
"It is a very difficult decision but I believe I've reached a stage where I need to focus energies on other aspects of my life," said the 30-year-old.
"It was a great privilege for me to play for my county for 10 years."
He added: "I cherish every step of the journey that began for me following our All-Ireland U21 success back in 2004.
The versatile Kernan, who excelled in both defence and attack for his county, is the son of former Armagh boss Joe Kernan and has played alongside his brothers Tony, Stephen and Paul in the Orchard side.
Kernan has also won three All-Ireland club titles and he will continue to play for Crossmaglen.
"I am particularly proud to have contributed to my family's long-standing connections with Armagh football and to have been involved both with my brothers and my father Joe at the top level," he saidan.
"Having discussed the current situation with my family however, I believe the time is now right to make the transition although I will continue to play Crossmaglen and remain actively involved in the GAA and the GPA.
"I would like to thank everyone who supported me throughout my county career but particularly my wife Marianne and my family.
"It is impossible to give the necessary commitment to compete at the top level in our game as an amateur without the backing of family and friends - for all that wonderful support I am deeply grateful.
"I was very fortunate to play alongside and against some outstanding footballers, sportsmen and individuals and will cherish those memories forever.
"Finally, I wish Kieran McGeeney and the Armagh team all the best in the future and I look forward to supporting them from the sidelines next year."