Paul Durcan among nine Donegal All-Star Football nominees
Last updated on .From the section Gaelic Games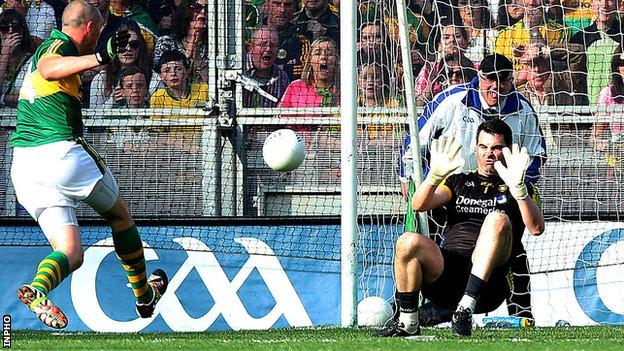 Paul Durcan is among nine Donegal players in the list of 45 nominees for this year's All-Star Football team.
Eamonn McGee, Neil McGee, Frank McGlynn, Odhran MacNiallais, Neil Gallagher, Ryan McHugh, Michael Murphy and Paddy McBrearty are also nominated.
Armagh's Andy Mallon and Tony Kernan are nominated as is Derry's Mark Lynch and five Monaghan players.
Monaghan's Rory Beggan joins Durcan and Dublin's Stephen Cluxton as the goalkeeping nominees while the other Farney County players in the 45 names are Drew Wylie, Dessie Mone and Conor McManus.
Predictably, All-Ireland champions Kerry lead the nominations with 11 hopefuls while Dublin join Donegal in having nine contenders.
In all, 10 of the players who received awards last year are nominated.
Dublin's Cluxton, Rory O'Carroll, Michael Darragh MacAuley, Paul Flynn and nominated again along with Mayo quartet Keith Higgins, Lee Keegan, Colm Boyle and Aidan O'Shea along with Kerry's James O'Donoghue and Monaghan's McManus.
Donegal defender Neil McGee is among the three nominees for the player of the year award with Kerry's O'Donoghue and Dublin's Diarmuid Connolly the other contenders.
The beaten All-Ireland finalists have two nominees for the young player award with McHugh and McBrearty in contention along with Galway's Shane Walsh.
2014 All-Star Nominees
Goalkeepers
Paul Durcan (Donegal), Rory Beggan (Monaghan), Stephen Cluxton (Dublin)
Fullbacks
Fionn Fitzgerald (Kerry), Keith Higgins (Mayo), Éamonn McGee (Donegal), Neil McGee (Donegal), Andy Mallon (Armagh), Rory O'Carroll (Dublin), Philip McMahon (Dublin), Paul Murphy (Kerry), Drew Wylie (Monaghan)
Half-backs
Aidan O'Mahony (Kerry), Peter Crowley (Kerry), James McCarthy (Dublin), Frank McGlynn (Donegal), Dessie Mone (Monaghan), Jonny Cooper (Dublin), Colin O'Riordan (Tipperary), Colm Boyle (Mayo), Lee Keegan (Mayo)
Midfield
Neil Gallagher (Donegal), Michael Darragh Macauley (Dublin), Odhran MacNiallais (Donegal), Anthony Maher (Kerry), David Moran (Kerry), Séamus O'Shea (Mayo)
Half forwards
Johnny Buckley (Kerry), Diarmuid Connolly (Dublin), Paul Flynn (Dublin), Aidan O'Shea (Mayo), Ryan McHugh (Donegal), Michael Murphy (Donegal), Donnchadh Walsh (Kerry), Shane Walsh (Galway), Mark Lynch (Derry)
Full forwards
Kieran Donaghy (Kerry), Paul Geaney (Kerry), Conor McManus (Monaghan), Cillian O'Connor (Mayo), James O'Donoghue (Kerry), Brian Hurley (Cork), Kevin McManamon (Dublin), Tony Kernan (Armagh), Paddy McBrearty (Donegal)
Young Player of the Year Nominations
Ryan McHugh (Donegal), Shane Walsh (Galway), Paddy McBrearty (Donegal)
Player of the Year Nominations
James O'Donoghue (Kerry), Diarmuid Connolly (Dublin), Neil McGee (Donegal)